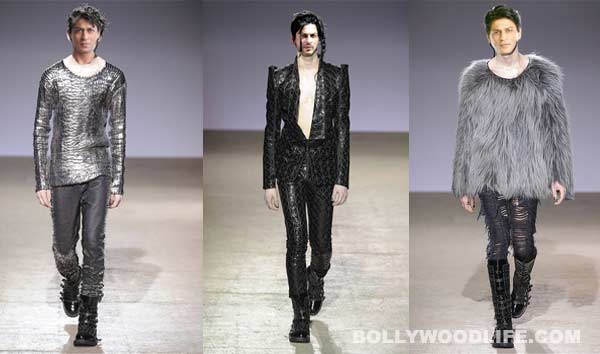 The English fashion designer recently said that he'd like to see the romantic hero of Chennai Express wearing his menswear collection. So how would SRK look in quirky creations by Pugh?
Shahrukh Khan usually plays it safe with his clothes. The Chennai Express actor is generally seen in dark hues, be it black, grey or blue. King Khan hardly ever experiments with his style. On numerous occasions we've spotted him in smart suits, clean-shaven, bearded or with stubble and he almost always looks sexy, even when he is tired or annoyed. The tees he sports are usually monochromatic and casual. Whether Shahrukh goes out in formals or casualwear, he stays as far from quirkiness as is possible, which is why we've been wondering something – how would the superstar look in Gareth Pugh designer menswear? We ask because the British fashion designer recently said that he'd definitely like to see the Khan-man rocking in his designs.
There is a small problem, though – Gareth Pugh is one of the most creative new designers on the British fashionscape, known for his outlandish and quirky creations. Gareth's designs are inspired by shapes and proportions and he's popular for his inflatable clothing. Most of his menswear creations are monochromatic, with geometric patterns. However, his avant garde style is diametrically different from SRK's own monochrome statement. Can you imagine Shahrukh's plain black blazer replaced by a shiny, slick one? What if SRK replaced his casual plain t-shirt with a tunic made from fox or goat hair?
Hmmm… As much as we appreciate Gareth Pugh's quirky work, we wonder – do you think Shahrukh Khan will look hot in any of these designs? Take a look and share your views on this, BollywoodLifers!