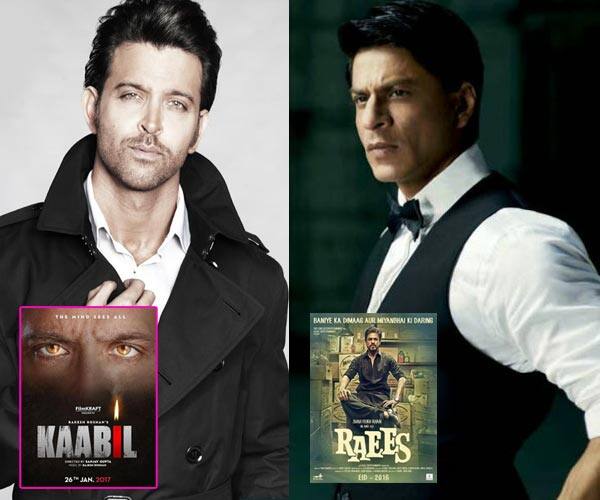 This year was buzzing with all the stories about various movies clashing with each other. First it was Shah Rukh Khan's Raees clashing with Salman Khan's Sultan. However this clash was avoided as SRK decided to shift his movie by a year. Now we know that his much awaited movie will release with Hrithik Roshan's Kaabil  in January. While both the parties wanted to avert this clash, none of them was willing to shift their dates. Shah Rukh's movie is already delayed for so many months and Hrithik had booked this date beforehand. SRK even tried meeting the Roshans and figure out if anything could be worked out but all seems to be in vain. The clash is eminent and now we just have to see who wins the final race at box office. Also Read: Hrithik Roshan to unviel Kaabil's trailer on Diwali
Amidst such fierce competition, we now hear that Hrithik Roshan might promote SRK's Raees and vice versa. In a recent interview to Stardust magazine, Farhan Akhtar who is producing Raees, indirectly hinted that both stars might promote each other's movies in future. The actor was asked his thoughts on this clash and the actor said, "I want Raees to do well but I want Kaabil also to do well. I have known Rakesh uncle all my life and Hrithik is a close friend of mine. We had a discussion recently where we said let's go out and promote each other's movies." So what was the conclusion of this discussion? Will they promote like what Hrithik and Akshay did during the clash of Rustom and Mohenjo Daro? No definite answer on this and only time can divulge any further details.
It won't be a shock to see two superstars of Bollywood promoting each other's movies. Shah Rukh Khan and Hrithik Roshan have been best of friends in the industry and we don't see a single reason why they would hesitate to voice their support for each other and wish good luck to each other. Both the movies have innovative plot and story lines. Raees in fact is facing wrath for casting Pakistani actress Mahira Khan in it. If during such sensitive times, SRK gets a support from Hrithik and his team, it will definitely boost the Raees actor's morale. Also Read: Hrithik Roshan opens up on clash with Shah Rukh Khan's Raees, says both movies will suffer
Farhan also believes that when two big projects clash, it is not necessary that one incurs losses. "At the time of Dilwale and Bajirao Mastani, though the later was critically well acclaimed, both the movies entered the 100 crore club and this proves that clashes are not always harmful," reminds Farhan.
Hrithik Roshan with sons in home

Hrithik looks relaxed while he was in his home with sons.

Image credit: Vogue

Hrithik Roshan's drawing room

Hrithik's house is a roof under which he has got his memories designed in style.

Image credit: Vogue

Hrithik Roshan snapped in his balcony

Hrithik flaunts design of his house while it was being shot by Vogue.

Image credit: Vogue

Hrithik Roshan's living room

This is what Hrithik Roshan's living area looks like.

Image credit: Vogue

Hrithik Roshan's study room

Interiors of Hrithik's house are really peaceful with so much of white and blue in it.

Image credit: Vogue

Hrithik Roshan's balcony garden

Hrithik Roshan has got an artificial inside his house too.

Image credit: Vogue