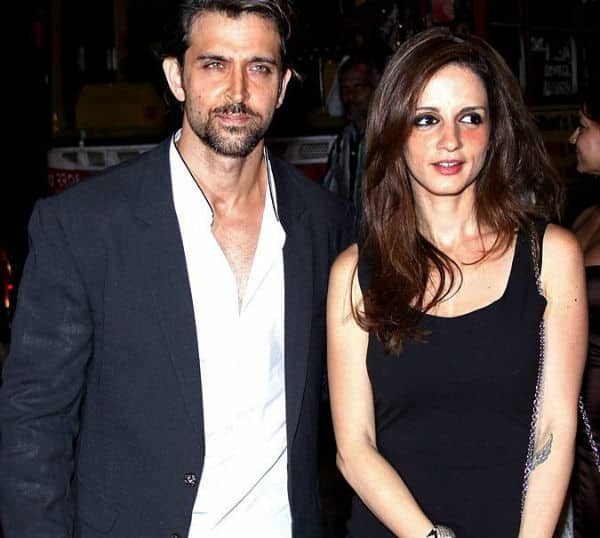 This high profile Bollywood divorce has been making headlines for quite a few months now
Hrithik Roshan and Sussanne Khan's separation announcement didn't just have fans and media in a shock, but also Bollywood. While reports of trouble in their relationship were doing rounds since the Kites days, it's Sussanne blink and miss appearance at Rakesh Roshan's 64th birthday that got everybody talking. Finally Hrithik came out with an official statement announcing that his wife had decided to move on. The Bang Bang actor who was going through a lean phase,his head injury on the sets of Krrish and following brain surgery earned a lot of sympathy. And now with news doing rounds about the Rs 400 crore alimony that Sussanne has demanded from her husband this relationship and divorce has become the butt of Twitter jokes. Here are few that tickled out funny bone…
sumitsaurabh: Suzzane khan demanded 400 crore in alimony. Arvind Kejriwal : iski jaanch honi chahiye ji,ye corruption hai hai ji
Chitku_Bandar: Q. What Suzzane sing for Hrithik on phone? A. You are my pumpkin pumpkin Hello Alimoney I am dumping dumping Hello Alimoney..
Hawaa_Baaz: Hope #Alia Bhatt doesn't asks for a share from Suzzane #Roshan just b'coz it is ALI-mony! #400Crore
Ace_Of_Pace: Hey Suzanne, it's called alimony not allyourmoney.
BihariTweeter: Salman made kick.. Will earn 200 cr Suzanne gave divorce..will get 400 cr Salman-0 Suzanne-1
HarshalSaxena: #Suzzanne Khan asks for Rs400 crores as alimony from #Hritik Roshan….. Now you know why #Salman Khan is not marrying ?
ShailendraVirdi: 400 Cr toh ISRO ke mars mission ka budget tha… Achchhe din for #Susanne
KhuranaPrateek: And #Susanne bags 400-cr alimony from #Hrithik RT @EconomicTimes: #Siemens bags Rs 411-crore contract from Power Grid Corporation
pravin_7: Thank you #Susanne you gave us a thing to rant about. We were so bored in mid of a week. You saved us. How you come up with 400 cr figure?
Awaez: Does HDFC, ICICI or other banks provide loan for Divorce or Alimony settlement? #Hrithik #Sussane
BeingContinuous: Ek pal ka jeena, Fir toh hai jaana, 1600 cr se aate hain hum 1200 crore se jaate hain hum #Sussane
Rajarshi Majumdar: Is alimony money taxable? Who cares! At least the payer needs to get some tax break 😛 GoI can't earn from both sides! #400crore #divorce
Kshitij Shringi: It's Divorce for #Suzanne and Die-Worse for #Hrithik.
DumberDol: #Hrithik has to pay Suzanne 400 crores as alimony coz they separated 'amicably'. Guess he wud need to launch IPO if split was acrimonious!
Indianguts: #Hrithik will become Hri(thin) after paying Rs.400 alimony to #Suzzane