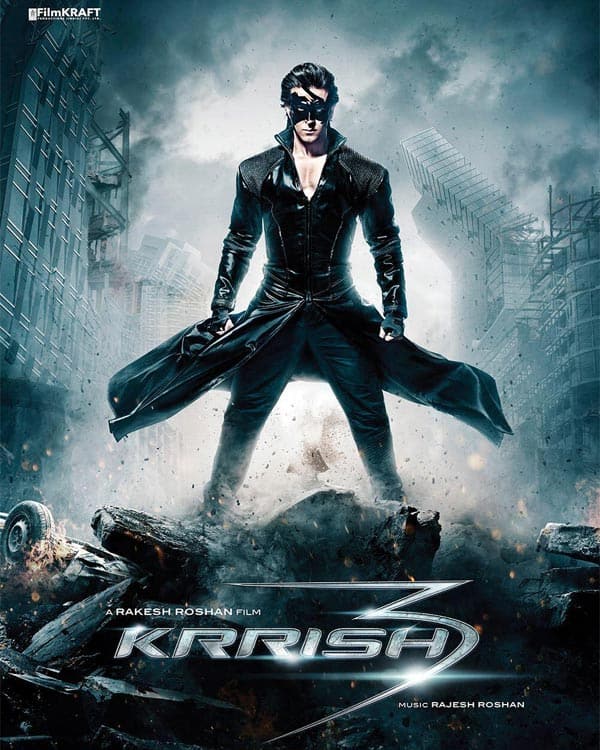 After a lot of anticipation since the Krrish 3 teaser was first released, we bring you the Hrithik's look in the film
With names like Hrithik Roshan, Priyanka Chopra, Kangna Ranaut and Vivek Oberoi in the cast, our expectations from Krrish 3 are peaking. Though we were a little disappointed to see just Hrithik on the first official poster of his look, we really liked the way our superhero stands tall among towering structures. The whole ambience reminded us of Christopher Nolan's Batman film The Dark Knight Rises.
Though Krrish, the earlier version of Hrithik's film, was targeted at kids, it doesn't seem to be the case with Krrish 3. At least that's what the posters suggest. Produced under Rakesh Roshan's Filmkraft Productions (India) Pvt Ltd, the film boasts of international talent with action by Tony Ching Siu Tung (Hong Kong) along with Sham Kaushal and sound design by Baylon Fonseca. Rajesh Roshan has composed the music with the background score by Salim-Sulaiman.
Krrish 3's first trailer – that will be out today at 4pm – hits theatres this Friday along with the release of Shahrukh Khan and Deepika Padukone's Chennai Express.
The Hrithik-starrer will release this Diwali on November 4. It's the first time that a Bollywood film is coming out on a Monday. Will you watch it?