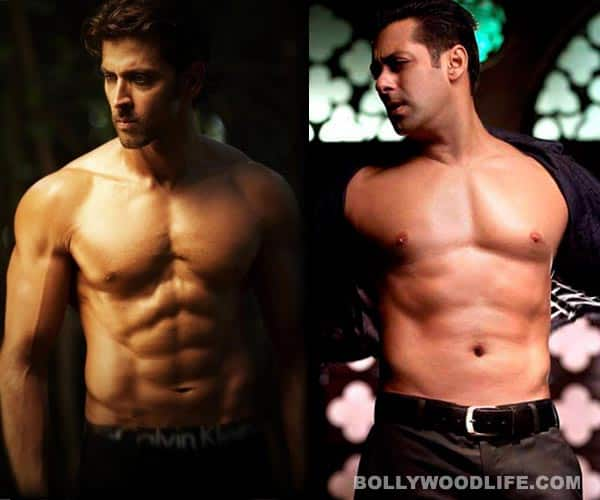 According to BollywoodLifers, the Greek God possesses the best bod in the highly competitive world we call Bollywood and trailing behind him is Dabangg Khan, known for his super hot frame
Hrithik Roshan emerged as the winner of BollywoodLife's 'Who has the best bod in Bollywood?' poll. Roshan was always known for Greek God-like looks, but li'l did we expect that he would end up winning the race, leaving behind the 'always in demand' Sallu bhai. Salman Khan garnered a total of 476 votes, while Hrithik earned a whopping 622 votes. The guy, who left us drooling with his high-octane action scenes in Commando, ended up earning a bronze with 432 votes. Our readers bolstered the claim made by a number of critics that Vidyut Jamwal is truly the next Sylvester Stallone of Bollywood. King of Indian cinema – Shahrukh Khan may have shook a leg vigorously in Om Shanti Om, showing off those uber cool six-pack abs, but we guess achieving the 'best bod' tag isn't cakewalk, SRK – it's not as easy as stretching your arms in the air! John-the beefy-Abraham may have an envious bod, but looks like the dude lags behind when it comes to fan following.
Kunaal Roy Kapur, Emraan Hashmi and Saif Ali Khan were at the bottom of the score roster. While we think the Nawab and Emraan are in pretty decent shape, Delhi Belly dude Kunaal definitely needs to sweat it out (in the gym, on the jogging track or wherever there's a chance of losing those calories) and cut down on those scrumptious rasgullas and gulab jamuns…
Read story: Vidyut Jamwal, John Abraham, Salman Khan, Hrithik Roshan: Who has the best body in Bollywood?