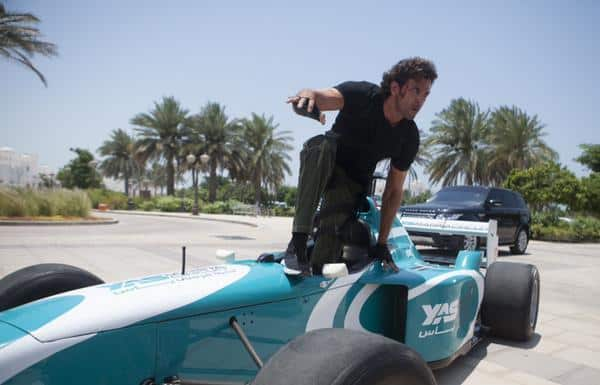 The actor will be seen driving a F1 car in the film, we hear
Siddharth Anand sure knows how to get the adrenaline pumping. In his upcoming action romance Bang Bang starring Hrithik Roshan and Katrina Kaif, the director has left no stone unturned to ensure an edge of the seat experience. The trailer that showcased what can only be said as some of the best action sequences to been have seen in Hindi films, has got everyone screaming for more.
In one such sequence, Hrithik Roshan actually drove a Formula 1 car on the streets of Abu Dhabi! Looks like Roshan Jr, is going the Michael Schumacher way with Bang Bang.
"Its the best adrenaline rush I've ever experienced. And to experience it amidst the visually stunning and smooth roadways of Abu Dhabi was just incredible! What a rush!!" says Hrithik.
Anand added, "There are many firsts in the action sequences in Bang Bang! Every action scene is pushed and torn the envelope. Indian screen hasn't seen action like Bang Bang. And the teaser has resonated this. Hrithik driving this car sequence being one of them."
The high speed action romance is all set to release on October 2.