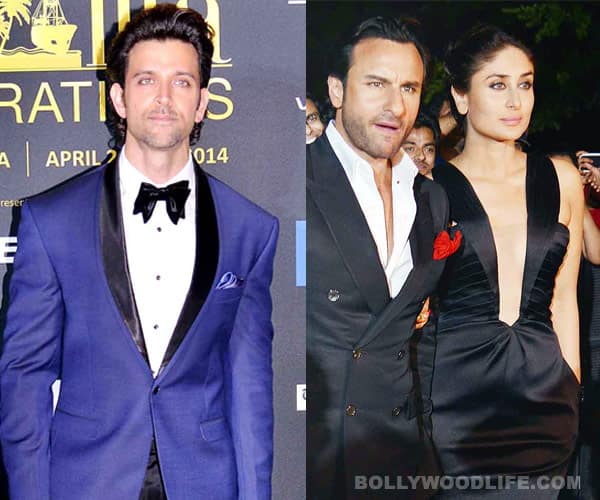 The Krrish 3 actor left out his alleged ex-flame and her hubby from his pool party
Things just went from bad to worse. Kareena Kapoor Khan was feeling let down after Hrithik Roshan walked out of Shuddhi leaving her in the lurch. The actors were in Florida earlier this week for an award show, and Hrithik hosted an impromptu after-party post the awards. Almost all of his Bollywood friends were present. Except Kareena and her husband Saif Ali Khan.
Says an industrywallah, "Post the main awards event, Hrithik decided to host an impromptu party by the poolside at the Hilton Hotel where he was staying. He invited everyone from Vivek Oberoi to Shahid Kapoor, Farhan Akhtar, Bipasha Basu, and Priyanka Chopra."
Interestingly, all was not well between Hrithik and PC after Agneepath and before Krrish 3. She was left out of the Agneepath success party at his house. However, she was present this time, while Bebo, with whom he had called truce for Shuddhi was not extended an invitation. Neither was chhote nawab.
According to the source present at the bash, "Hrithik and Kareena were to do Shuddhi together and they would have started shooting in a couple of months from now had he not walked out of the film, so it seems quite odd that Duggu didn't invite Kareena. He also knows Saif very well as they have acted in Naa Tum Jaano Na Hum so it's baffling why he didn't invite the couple to his party! Everyone was talking about this exclusion. But it's something only Hrithik can explain. Maybe it was a slip of the mind, and nothing more."
No front row!
People at the awards night were speculating why Saif looked so angry and Kareena seemed upset. The couple arrived for the event, stayed for a few minutes and just left. They didn't give away any awards and appeared in a hurry to leave. An insider reveals they were upset because they weren't seated in the front row.