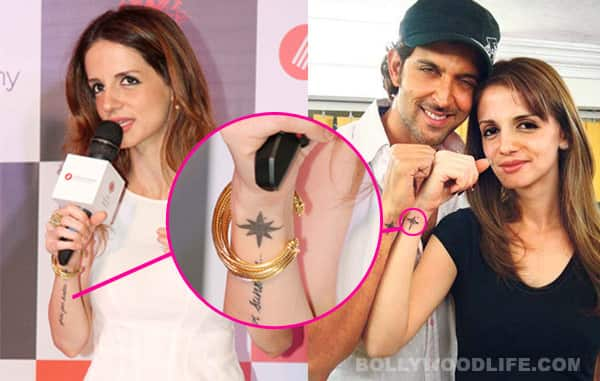 skip advertisement
Hrithik and Sussanne had identical tattoos but with them parting ways, the latter no longer wants nothing in common with her estranged hubby
Hrithik Roshan and Sussanne Khan parted ways a few months ago. But while there have been reports that Hrithik wants his wife back, wethinks that Sussanne has no intentions of looking back. What more, she is doing everything to move on.
So much so that she doesn't even have a matching tattoo with her husband anymore. Few years ago, when Hrithik and Sussanne were very much in love, the star couple had gotten themselves inked. Both of them had inked their forearm with the six-point star, aka Solomon's Seal The Star of David or Creator's Star which is symbolic of interaction of the divine with the mortal. But Sussanne has now altered her star tattoo. She has not only altered the star tattoo but has added another inked line, "Follow your sunshine."
At a recent event, Sussanne had no qualms about flaunting her altered tattoo. What more, she also looked radiant in a white dress. While Hrithik's appearances post the split weren't exactly heart-winning, Sussanne seems to be glowing these days.
Anyways, take a look at Sussanne's new tattoo and tell us if you like it!