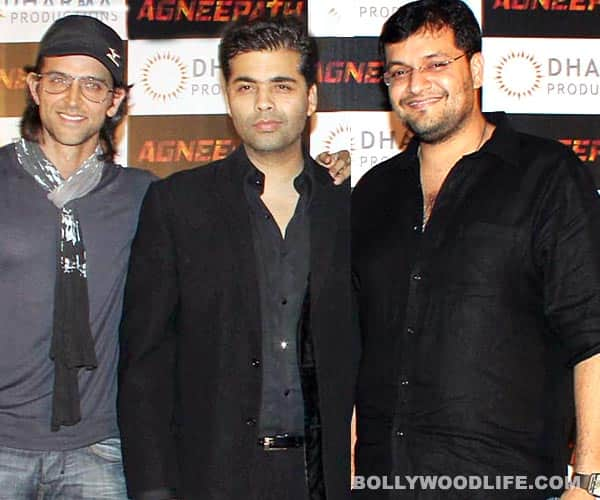 After the success of Agneepath last year, the terrific trio of Hrithik and the two Karans join hands once again to create a love story scheduled to release in Diwali 2014
Ever since Karan Johar announced that he would be directing a period drama next – after his youth romcom Student Of The Year – there have been all kinds of stories doing the rounds regarding the film's starcast. Firstly, there was news of Ranbir Kapoor sharing screen space with KJo's best buddy Shahrukh Khan; later rumours suggested that Ranbir has been finalised as the lead, while Karan's close friend SRK won't star in the film at all. Then there was news that Ranbir might team up with his cousin Kareena Kapoor and the duo might play brother and sister in the film. Uff!
Now, the big news is that Karan plans to revive a project that his father Yash Johar was working on, which we assume is the same period drama. It is a love story set in Lahore during partition for which his father had researched a lot. Apparently, Karan did not work on it earlier for reasons best known to him. But now it's learnt that the filmmaker has finally roped in Hrithik Roshan to play the lead in this home production called Shuddhi (means purification) which will be directed by Karan Malhotra. The film will go on floors by the end of this year and will release in Diwali 2014.
"It's a large-scale love story and I'm looking forward to it," said Karan while talking to a newspaper and added, "Karan Malhotra has a fantastic vision as a filmmaker and I trust him. Hrithik is a close friend and an outstanding actor. It's great that the three of us are teaming up again." Our khabroo says that Malhotra has already been preparing for this film for over a year.
Wonder who'll play the female lead opposite the honey-eyed actor in KJo's love story. Deepika Padukone? Katrina Kaif? Priyanka Chopra? Or maybe Sonakshi Sinha? Any guesses, peeps?