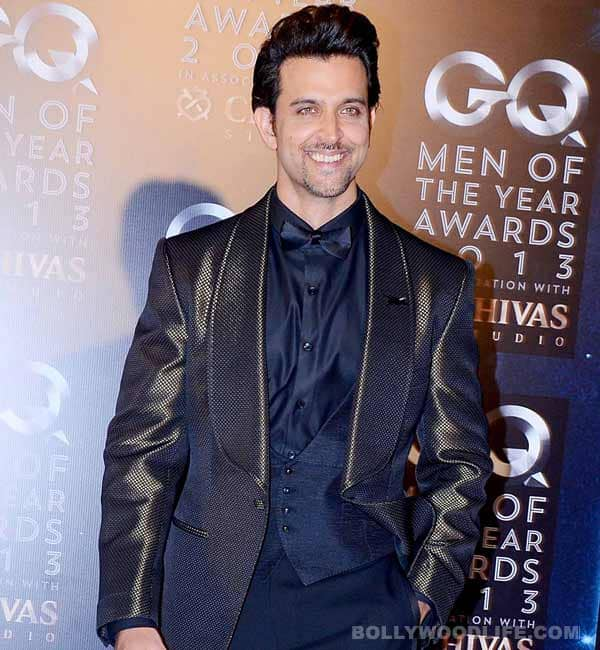 Superstar Hrithik talks philosophically about this year's big Diwali release – the eagerly awaited superhero film Krrish 3…
Beaming a smile and brimming with enthusiasm about his pet project Krrish 3 the handsome Bollywood superstar Hrithik Roshan does not hesitate to begin with the crux of the story, the core of the film, as he sees it. This comes when he is asked about the action-packed trailer that has evoked mixed responses. Does a real story lie somewhere deep in the film? He explains, "The father and son, the husband and wife, the bonds – we're Indians and our Indian films cannot be without those values. This clearly is a very Indian film and that's what sets it apart from all the other superhero films you've ever seen."
How does this follow on from the previous films, in terms of characterisations?
If you liked Koi Mil Gaya, the character of Rohit is playing a very important part in this film, as the childlike man is also a father. The vulnerable Rohit drives this film and is the most important character, more than even Krishna, whose alter ego is Krrish. So essentially, I play two and a half parts. He's the hero of this film. Right from there, by his essence, he just radiates and fills up the frame with all the emotional feelings that one needs to feel while you watch a film. He's full of love; he's mentally challenged, but he's very sweet and giving and he's one bright ball of brightness. It's a beautiful character.
Just like you, you're always a bright ball of brightness…
(smiles) I try to be, I am, most of the time, yes! (chuckles) I choose to be, as long as there are people around me – I am, yes.
It comes out in your tweets actually, you're quite the tweeter…
I'm not quite the tweeter. I wish I could be more active, especially when my film is being promoted, but I somehow cannot find enough spaces between what I do to tweet more.
Tell us about the experience at Cineworld Feltham when you met your UK fans…
It was incredible; it was amazing! There were these people who gave us such a warm welcome and I even recognised a few faces from the last time I was here. So it was like kind of a reunion with a few of them. Some great reactions – and the people are looking very excited. We spoke about the symbol of Krrish and I passed on my idea of Krrish and people really took to it and I was happy with the kind of appreciation and the acknowledgement about the symbol of Krrish. I passed out a lot of the merchandise that we had, on the podium we had in the buzzing cinema foyer.
Is this then the finale, in what looks like the perfect trilogy?
Absolutely not. It's just begun! This is just the birth of the superhero. At the end of this film, people will say that Krrish, this guy, he can be a real superhero. The first part was a very intimate journey about just the people in the family. This time, it's a fully fledged superhero film, with a super villain and his gag of mutants, which is described very beautifully, very ingeniously, with a term called Maanvar – which is maanav (human) and jaanwar (animal) – to introduce these mutants to our audience who so far have never experienced characters like that. We have Rhinoman, Antman, Frogman, Cheetahwoman, Scorpionwoman, all created by the antagonist Kaal, played by Vivek (Oberoi). It's all very exciting, and of course Kangna (Ranaut) is playing the chameleon Kaya – she can change her form and looks. In some ways, this screenplay is what I term as simply convoluted and interesting, exploring many shades of many characters.
Did you think it would all fall into place, with such a complex cinematic landscape?
We have done a lot of new things in a lot of ways and this film has been a challenge from the word go. From considering not making it, to taking it on, and getting up to a point that it's here. I'm very proud that my father and I took up this challenge and kept at it.
Sunaina Roshan your sister, is very much a part of Filmkraft and your productions…
Yes, oh yes (smiles)! Oh absolutely!, Sunaina, she is just the purest person, full of love; and the way she gives is completely uninhibitedly and she's completely honest and her criticism is totally constructive. And that really helps, not just for Krrish, but even in my personal life. I always look forward to what her feedback is on a lot of things and yes, she's like the good luck charm for this film.
You've been injured doing some of the stunts in this and other films on your slate…
It's always tough; nothing comes easy. If something has to be of a certain worth, it better be tough, because if it's easy, it's not going to end up being of any worth at all. Yes, it was tough, but the tougher, the better. I look forward to challenges and I enjoy them and I think that's the only way to feel that you've accomplished something. Accomplishing leads to being happy, so if you want to be happy, look forward to your challenges and difficulties and overcome them with the right perspective and attitude, as you can surpass and overcome anything in life.
And the pain too, as that is part of the process…
The pain is inevitable; we're all going to experience pain, but the suffering is a choice. You can choose to suffer or not. But pain is going to be a friend of yours throughout your life. I don't say that in a dark way, as it is a catalyst that helps you grow and create. All the best creations in the world have come about from some kind of a personal experience that one has vented about. Pain is not a bad thing; it is a good thing and it eventually becomes the wind beneath your wings.
The unique selling point of this sequel in the film franchise is…
The vision – what we had in our heads, and the fact that we have taken on a seemingly impossible challenge in every single way, making a film like this in India with a budget that is equivalent to one action sequence in Spiderman, for example, and to see us pull that off is going to be quite a revelation to the world. Maybe the budgets of Hollywood films might just come down, as they might point to us and say that they did that on such meagre budgets, we don't need so much to create our movies! They might just outsource their SFX to India (laughs out loud). If you go by the promos, we've pulled it off in less than two percent of the cost of a typical Hollywood superhero film.
ALSO READ: Krrish 3 movie review: A formulaic superhero adventure powered by showy visual effects