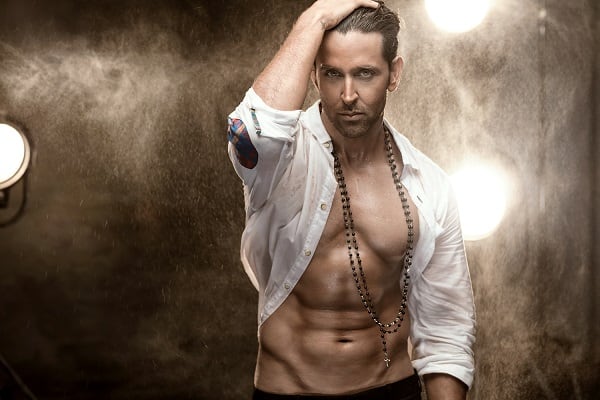 It's been two years since Hrithik Roshan divorced Sussanne Khan. Since then a lot has happened in his life. So recently, in an interview to Filmfare, he opened about his thought of remarriage. He stated that currently, he's figuring out being self-sufficient and self- reliant. He said, "Today I cannot think of remarriage. I feel satiated, I feel content." So Hrithik has stated that he is happy and content being single and is not looking for remarriage. The actor recently celebrated his birthday with his family, ex wife and close friends. Jr Roshan was seen wearing a casual full-sleeved navy blue T-shirt and Sussanne looked gorgeous in a white dress. The T-shirt had two words on it, 'Love' and 'Peace'.
On the work front, Hrithik is gearing up for the release of his first film in 2017, Sanjay Gupta's Kaabil. The film which is slated to release on January 25, 2017 has Hrithik Roshan playing the character of a blind man Rohan Bhatnagar who takes revenge from those who wronged him and his wife, played by Yami Gautam.
After releasing four songs which are received well by fans and listeners, their fifth song is a revisited version of Dil Kya Kare from 1975 hit Julie. The song will be launched on Janaury 13, 2017.
The film is slated to clash Shah Rukh Khan's Raees. Rakesh Roshan had exclusively revealed to us that the reason he didn't shift the release date even on Shah Rukh Khan's behest, he said, "Once SRK suggested to me that I should shift my date. I told him I couldn't because I am superstitious. During King Uncle, I had pushed the release earlier by four weeks because of my daughter Sunaina's wedding and the film flopped. After that I have never shifted the original date." Also read: Hrithik Roshan steps out with ex-wife Sussanne Khan and kids to celebrate his birthday – view HQ pics
The film is slated to clash Shah Rukh Khan's Raees. Rakesh Roshan had exclusively revealed to us that the reason he didn't shift the release date even on Shah Rukh Khan's behest, he said, "Once SRK suggested to me that I should shift my date. I told him I couldn't because I am superstitious. During King Uncle, I had pushed the release earlier by four weeks because of my daughter Sunaina's wedding and the film flopped. After that I have never shifted the original date."