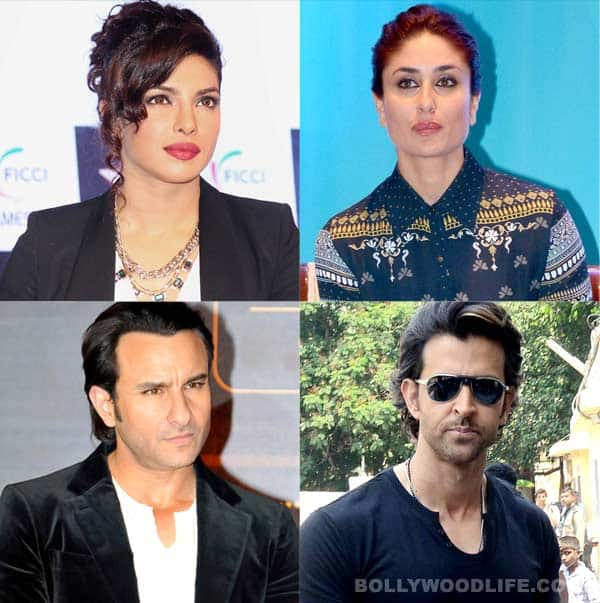 An MLA from Thane has written to the President to take action against some top stars of Bollywood. Read on to know why
B-townies like Priyanka Chopra, Kareena Kapoor Khan, Saif Ali Khan, Farhan Akhtar and Hrithik Roshan are scheduled to fly to America for IIFA Awards, which will be hosted between 23 and 27 April, we hear. What's the big deal, you ask? Well, these dates coincide with the Lok Sabha Elections 2014. Obviously, if celebs who are worshipped by their fans fail to vote, they won't set a great example for their followers, right? Now we hear that Pratap Sarnaik, a Member of Legislative Assembly, Thane has written to the President of India, Pranab Mukherjee to take action against these celebs who intend to miss casting their votes for Lok Sabha Elections due to IIFA awards.
Sarnaik told a popular daily, "The awards night is being hosted in America between 23 and 27 April. These dates coincide with our Lok Sabha elections. I'm told some of the biggest actors and renowned technicians are leaving the country in this period. There are people like Saif Ali Khan and others, who have been conferred with the Padma awards, in this group. How then, can such persons leave, without bothering to cast their vote? Actors are public figures who should lead by example. If they themselves do not exercise their franchise, they are bad role models. Such irresponsible behaviour should be condemned."
He added, "The election dates were announced with ample notice. Ideally, the organisers should have changed their awards show dates. Or else, the stars who are performing and receiving awards should have impressed upon the organisers the need to change the date; they should have insisted they want to be in India on election day to cast their votes. This is such a serious issue that the passports of those leaving the country for their own monetary gain without casting their vote, should be impounded."
Well, he does have a point, no? We wonder what Priyanka, Kareena and the others have to say about this. Do you think they will behave like responsible citizens or will they still leave for IIFA awards and set a bad example. We wonder how many others will be badly influenced by B-townies like Priyanka, Saif and Hrithik… Deep sigh!