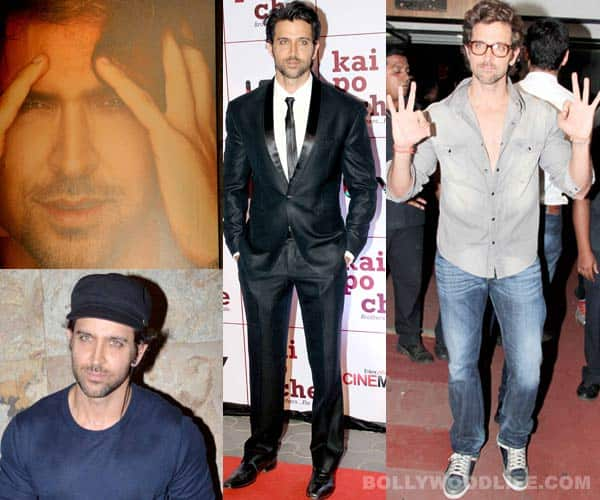 skip advertisement
The Krrish 3 actor turns a year older today. But there's no denying the fact that he's still the hottest hunk in B-town…
It's kinda hard to believe that Hrithik Roshan is 40 years old. It seems like only yesterday that the hunkalicious actor made his film debut with Kaho Naa… Pyaar Hain and made the girls go crazy. And since then we have stopped questioning the existence of God, 'coz our very own Greek God had arrived on earth.
Just the thought of Hrithik's light eyes, sinewy body and oh-so-perfect features and we start breathing heavily. Believe it or not, it's been almost 14 years since the hunk made his film debut and boy, he still looks so sexy, no? Let's take a look at Hrithik's appearances in the last year of his 30s…
Since his last birthday, the Krrish 3 actor has impressed us on numerous occasions. He isn't one of those actors who experiments a lot with dressing style but despite that he's cool, he's funky and he's truly handsome. On one occasion, Hrithik was seen in a black shirt, unbuttoned to show off his flawless chest. And the intense expression on his face…. my heart skipped a beat (or more) just looking at him! It should be a crime to look so desirable. If you think that anyone and everyone looks good in black and we're just biased, check him out wearing a pink shirt. Yes, pink – and he looks all male, all the way! And we love it when he folds up his sleeves to flaunt his biceps. In a checkered shirt or a plain round-necked tee, the actor looks as hot as hot can be. And he gains even more points when he attends events all suited and booted. If being tempting was a crime, Hrithik would be serving a life sentence. Wink, wink!
Just ten days into 2014 and the newly single Hrithik is already playing with our hearts! Be it his shoot for Dabboo Ratnani's 2014 calendar or his sexy presence at a recent event, he looks totally tempting, even with the new weird hairdo.
So BollywoodLifers, as you send in your birthday wishes for the Greek God of B-town, feast your eyes on this photospread of Hrithik Roshan. Feels like it's your birthday, doesn't it!