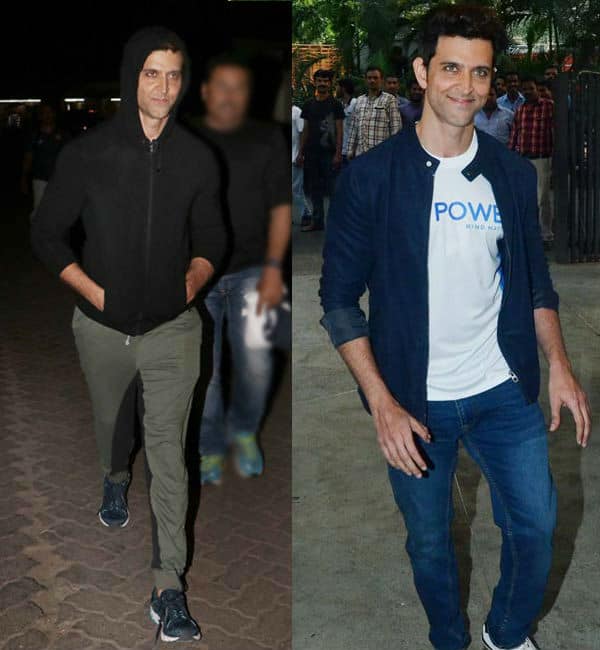 Hrithik Roshan is a man everyone fawns over. He is tall, handsome and dripping hot. It's unbelievable how over the years, he has only become better and better looking. Yes, he is also a great actor and a superstar, only one who managed to make a superhero film a success. Many tried, but failed miserably. Even today, Krrish is the most successful superhero franchise in India. Now that we all know and fans like us make sure people do too by talking about it incessantly. But when he is not seen in films, he is busy making us go weak in the knees sporting two different looks in the same freaking day. We have two different events from yesterday of the actor and both have him look different yet handsome, as always. (Also read: After Deepika Padukone, Hrithik Roshan opens up about being a victim of depression)
First up is his look for an event that he attended yesterday. In a jersey and denims, Hrithik was oozing hotness. But what caught our attention more was his haircut. It's pretty cool. He anyway looks like Adonis on earth but the haircut has only added to his oomph. We are so digging him here. Also check out the time when he wears a blazer over the jersey…SIGH!!!! (Also read: Hrithik Roshan's Kaabil to have a Telugu release as well)
The next was his casual walk at Juhu. As you know, come rain or thunderstorm, Hrithik never gives up on his walk. Only recently he was spotted on the beach while it was pouring down. Here he was spotted after doing workout with his trainer. In casual track pants and the black hoodie, he is looking amazing. You would say, where's the look here? Well, anything to gush over him is reason enough to come up with pictures. Check out his pics here.
Yesterday, we told you how he was spotted with his kids at a theatre in the suburbs to catch a movie. While he looked uber hot, he did find it odd to see his shoelaces dangling loosely. We were just concerned about his health as the actor is prone to accidents. How many time has he hurt himself while shooting his films? Many times. We just don't want that to get repeated.
While Hrithik keeps making these awesome appearances, he also makes sure you get a glimpse of his films. Kaabil's trailer will be released this Diwali and we can't wait to see that now. Whatever happened to Mohenjo Daro, Kaabil could turn things around for him. Don't you think so?