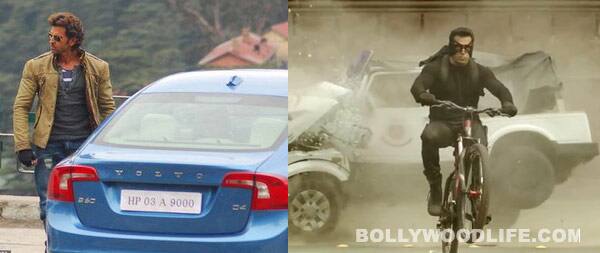 If the sources are to be believed, then Roshan Jr has shot the biggest action sequence ever in Bollywood for his upcoming film, Bang Bang
The recently released trailer of Salman Khan's Kick has definitely got the masses talking. If you have seen it, you surely would have been stunned after watching those high-octane action scenes that Dabangg Khan has performed in the film. From jumping from a 60-floor building to gliding on the moving train, the Jai Ho actor has done it all.
But what if we tell you that Hrithik Roshan has whizzed ahead of Sallu when it comes to action? Yes, from what we hear, Roshan Jr has recently shot the biggest action scene ever in Bollywood for his upcoming film, Bang Bang opposite Katrina Kaif. Apparently it was a chase sequence involving Hrithik driving a car and had more than 120 cars in it. Yes, you read that right!
It was shot in Abu Dhabi and the makers were very careful that the pictures of the chase sequence do not get leaked. It was a well-guarded shoot, it seems. To ensure this mammoth task was carried successfully, Hollywood action director, Andy Armstrong was roped in to shoot the sequence.
Before the actual filming, Hrithik did some dry runs of the car he was going to drive. Once he was comfortable with it, they stared filming. Also, all the cars from the shoot were hired from Abu Dhabi. They all are high end cars, of course. But the car that the Krrish actor was using remains a mystery. Any guesses BollywoodLifers?
Anyway, Hrithik might have beaten Sallu miyaan in terms of action. But will that make Bang Bang a bigger and better film than Kick? Well, all we can do is just wait and watch, hai na?