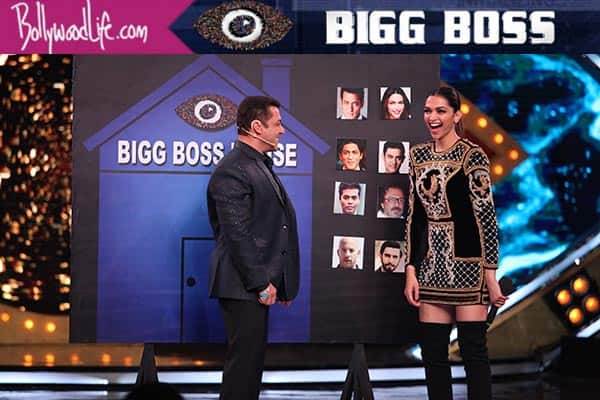 Salman Khan's show commoners are going to rock it this season. Yuvraj Singh's sister-in-law Akansha Sharma, Swamiji, Lokesh and Manveer are already proving to be stars! Salman Khan returns as the host of Bigg Boss 10 on Colors. And like every year, this year too Salman, who has been hosting the popular reality show since seven consecutive years is going to make sure we are all hooked to our TV screens throughout the season. Needless to say that fans of the superstar are extremely thrilled and so are we. The first guest on Salman's show is none other than Deepika Padukone. Yes, Ms Padukone will be seen on the premiere episode tonight for the promotion of her upcoming maiden Hollywood venture, xXx: The Return of Xander Cage and we can't wait to find out what Salman and Deepika together will unleash in the coming moments.
Like every year, we will get to see Salman do an electrifying dance act. The promos that are being aired on the channel since yesterday tell us that the superstar hasn't recovered from the Sultan hangover. Looking all dapper and handsome in the full black suit, the superstar will shake a leg on the title track of his last release. Deepika too will make a grand entry with a sizzling dance act, we are told. So while the special guest on Bigg Boss is a huge Bollywood star (Ms Padukone), the celebrity contestant list too has some hot and happening names. We have already told you that VJ Bani, Karan Mehra, Rohan Mehra, Rahul Dev, Antara Biswas, Lopamudra Raut and Gaurav Chopra will be the housemates this season. (Also read: Bigg Boss 10: Salman Khan's ex girlfriend Katrina Kaif is a part of BB10 and here's proof – watch video)
As you will already know, the makers have decided to give this season of Bigg Boss the aam aadmi twist and the promos too have been intriguing. Along with the celebs, the common will also be seen battling out for the trophy this season. Yes, after a round of auditions and scrutiny, 11 commoners were shortlisted by the makers. However, only seven were then selected to be inside the house. While these commoners might not be very popular now, but surely they will be discussed in each and every house in the coming days considering Bigg Boss is known to make careers.
Here let us see…
#The show opens with a flashback at all the previous seasons. Salman Khan enters in a bus as Guide Khan and brings with him some commoners who get an entry into the Bigg Boss 10 house. And not to forget Salman himself describes each of these corners. After dancing to Mashalla song and talking about romance (Armaan Kohli and Tanisha Mukerjee's visual plays) Salman takes them to another corner and Gauahar Khan makes an appearance complaining to Bigg Boss. Then Khan talks about that corner where most fights take place – the kitchen. We hear Dolly Bindra's thunderous voice. Guide Salman says good bye and we meet the host…. ON STAGE…
#Salman Khan makes a grand appearance on stage and does a small Sultan performance. He then plays out all the audition videos. Khan goes on to invite the first contestant on stage.
#An audio visual of Swami Omji Maharaj plays out. Swamiji compliments Salman Khan when the actor asks him to hold his microphone properly and says he's so attractive that people forget everything. Salman asks Swamiji to make the Bigg Boss house heaven. But Swamiji says that he will make sure that Salman will be the world's biggest celebrity. Khan in his inimitable style asks Swamiji to make Shah Rukh Khan a the world famous star instead.  Swamiji doesn't stop at that he says that he will soon get Salman hitched. Khan starts blushing and jokes that he hopes that Swamiji gets eliminated asap just so that he can meet the lady the latter has chosen for him to tie the knot with.
#Then Lopamudra Raut makes a glamorous entry to the Bigg Boss 10 house. While the leggy lassie wants to find out what Salman thinks about her, Swamiji insists that it is not what he was talking about to Khan sometime back (marriage or Ms Perfect). Swamiji and Lopamudra enter the Bigg Boss house and get chatty. Swamiji immediately starts flirting with Raut and starts making predictions. He insists that Raut will be more successful than Aishwarya Rai Bachchan or then Priyanka Chopra. Swamiji says that while he will be the winner he will make sure that he makes Lopamudra win the show. Their exchange leaves Salman Khan laughing uncontrollably. The actor literally breaks into tears while laughing on listening to Swamiji and Raut's candid conversation.
#Manveer Gujjar makes an appearance on stage with his whole gang. During the exchange we find out that Manveer's father is angry with his son. Salman asks Gujjar's father forgive him and defends his son by saying that you make mistakes when you're young. The third contestants enters the house with a present from Salman Khan – a shorts to enjoy the jacuzzi inside the house. On entering Manveer looks like a very different person he cracks up Raut by joking about Swamiji, who later complains and walks away.
#Nitibha Kaul, this Google employee has quit her job two hours ago to be a part of Salman's show. Kaul goes on to sing a song from Salman Khan's film for him and manages to impress the star too.
#Rohan Mehra enters the house and gets a 4.5 rating on 5 from Kaul. The Yeh Rishta Kya Kehlata Hai actor after a brief performance enters the house and meets the rest of the gang there.
#Salman Khan introduces Deepika Padukone as the sixth contestant. And the actress after a brief act makes an entry on the stage. Deepika's this entry leaves everyone wondering is she is indeed a contestant. But then we know it right that she's there to promote her film xXx: The Return Of Xander Cage. Salman starts playing a game with Deepika and send everyone from Sanjay Leela Bhansali to Aamir Khan inside the Bigg Boss house. The actress then takes a selfie with Khan and makes an entry into the Bigg Boss house.
#VJ Bani enters the house after a performance on Beat Pe Booty. Bani reveals that she never has watched television. And that her sister had asked her to be very nice to everyone and even asked her to eat her own hand if she gets hungry inside the house.
#Lokesh Kumari Sharma is the next commoner to enter the house. She wants to become like Priyanka Chopra and give her a family a comfortable life. She also warns all the other contestants to beware of her. She certainly seems like someone to watch out for. Bani and Lokesh get into a saree draping competition after the latter alleges that celebs do not know how to drape a saree. Bani wins this task and Salman teases Lovely. The two then enter the house and meet the other inmates.
#Swamiji's chat with Deepika Padukone leaves Salman in splits. Salman decides to have a chat with the contestants and Deepika inside the house. Khan asks the actress to pick a person who will get into a fight first in the house. Deepika picks Bani and Lokesh. Salman then asks Deepika to come out and join him back on the stage. Deepika greets everyone and is about to leave when Swamiji starts speaking and says how he has rechristened Deepika as Lakshmi. Salman asks Swamiji and rest of the team to excuse the actress. Ms Padukone joins Khan back on stage and then we see Deepika's Hollywood film xXx: The Return Of Xander Cage trailer.
#Karan Mehra the popular small screen face from Yeh Rishta Kya Kehlata Hai joins Salman on stage. He briefly bid his wife goodbye and is met by his new inmates.
#Akansha Sharma, Yuvraj Singh's sister-in-law is on Salman Khan's show and she alleges that it was her mother-in-law who made life miserable. Salman asks Akansha why she's on Colors show and she claims that she wants her divorce and wants to give hope to all those women who feel trapped and give them courage and faith.
#Gaurav Chopra, small screen heartthrob makes an entry into the Bigg Boss house this year. Chopra was a part of Colors show Uttaran. Gaurav starts bonding with his TV colleagues on entering the house.
#Manu Punjabi is another commoner who was voted as the most dumdaar contestant of the house.
#Priyanka Jagga is a mother and she manages to make Salman Khan blush. This mommy is definitely someone to watch out for. And yes Priyanka makes some revelations about her own self that makes one thing clear that she will give a tough competition to the rest inside the house.
#Salman Khan asks Priyanka to choose one celebrity companion. She picks Siddharth Shukla and ays a NO to Gaurav Chopra who is already inside the house. Then Salman shows her Rahul Dev's picture and Priyanka says that he will be someone she will need inside the Bigg Boss house and Salman okays her choice. Rahul joins in as the thirteenth contestant. Rahul Dev meets Salman on stage and when he asks the former to reveal about his first impression of Priyanka. Rahul says she is quite bold and doesn't really need a Dabangg. The duo enter the house after some fun moments with Salman Khan on stage.
#Navin Prakash's video impressed the makers and he makes the entry on stage as the 14th contestant. A teacher by profession, Navin trains those who aim to clear the IAS exams. It was Navin's students who posted their professors video and that's how he got selected.
#The fifteenth contestant is a Bhojpuri actress, Antara Biswas aka Mona Lisa. After a brief performance she meets Navin and Salman and enters the Bigg Boss house.
Bigg Boss gives a shock and makes the commoners the bosses and the celebrities are declared as their slaves. While the commoners get to sleep on separate beds the celebs have to share their beds. We already see issues coming up as Bani starts to complain about bad toilet habits. We will also see the nominations for the next week soon. Watch this space for more on Bigg Boss 10!