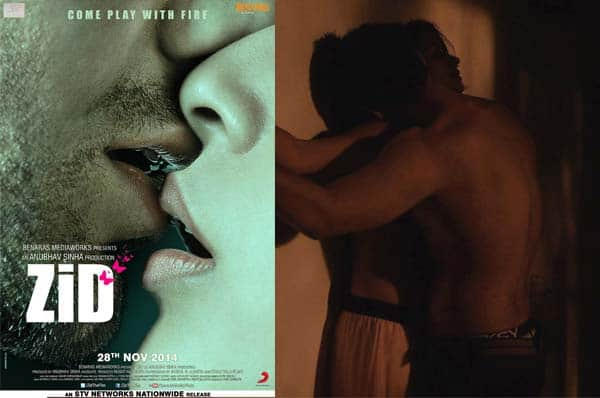 A few years back a leading Bollywood actress had quoted, "Only sex and SRK sell". Well, 'Zid' might not have the latter but the sex quotient in the film will certainly not disappoint the audience…
Zid is an upcoming erotic thriller starring three newcomers – Karanvir Sharma, Mannara and Shraddha Das. The film has been produced by Anubhav Sinha and Mushtaq Shiekh. And this is the third time that these two are collaborating together. Zid promos and songs have been making the right noises ever since they were released online around a fortnight back. The trailer of the film got an overwhelming response and even beat Aamir Khan's PK in terms of number of views on Youtube. Everyone is wondering what's it that is making the audience go gaga over 'Zid'. We believe that it is the right mix of thrill, suspense, romance and sexual quotient that is creating curiosity amongst the viewers. The film does not boast of a single 'Star' in the cast and yet the hype and buzz surrounding the film is phenomenal. We spoke with Mushtaq Shiekh, the associate producer of the film to find out what factors according to him attribute to the overwhelming response that the film has generated.
Mushtaq says, "Well, first of all I would like to thank the viewers for this sea of love and support that they are showering our film with. It's quite surreal. It's very difficult to pinpoint as to what it is that is making the film tick. There are a lot of people who are saying that it is the sexual quotient but let me tell you that there have been innumerable films in the past that have had much more sex than what we have in our film and many out of those have fallen flat! So it would be unfair to say that it's just the sex that is doing the trick. I believe that our film has all the ingredients in the right proportion, be it romance, thrill, suspense, drama, love and even the sexual quotient. It's probably the right mix of all these factors that's doing the trick. As far as the film is doing well and the audiences are getting their monies worth, I am ok with people attributing its success to anything!"
Come November 28th, we will know what is that's worked in favour of 'Zid' and what is it that's worked against it. Till then, let the debate go on!