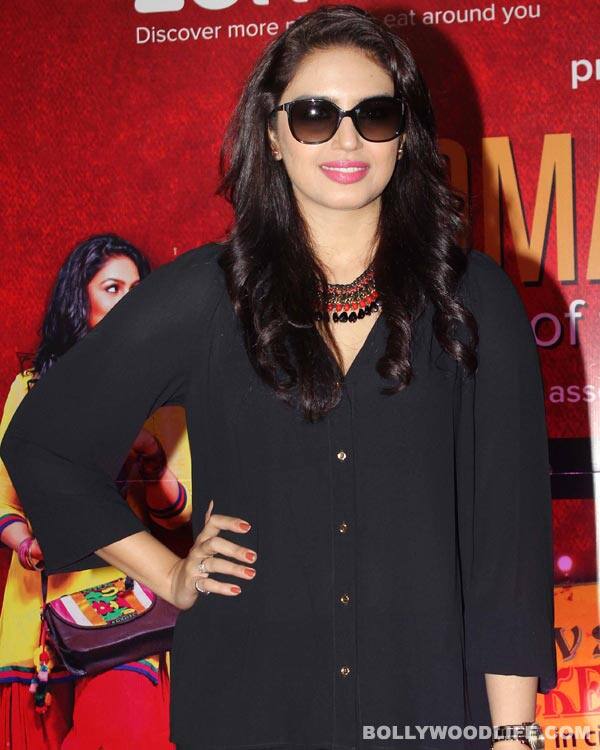 The Gangs Of Wasseypur babe stood out amidst an ensemble cast comprising of actors like Manoj Bajpayee, Nawazuddin Siddique and Piyush Mishra. Her latest film Luv Shuv Tey Chicken Khurana is getting her rave reviews
Huma Qureshi is the new girl in B-town and she admits that she has been very lucky as far as her acting career goes. She came to Mumbai from Delhi with dreams in her eyes and without a godfather and has made a place for herself. She started by doing a slew of television commercials and now is working with the best names in the industry. She talked about her love for films and the way ahead…
You started by doing theatre in Delhi; was Bollywood a natural progression?
I have been a film buff all through and my mother is very filmi. I and my brother (actor Saqib Saleem) got our acting genes from our mother. Saqib made his Bollywood debut with Mujhse Fraaandship Karoge. I wanted to give it a shot too, and I had to try really hard to convince my parents, especially my father. It took me about six odd months to convince him. He finally gave me a year to try my luck and despite being an outsider, today I think the industry has accepted me.
How did you meet Anurag Kashyap?
I worked in the first television commercial directed by Anurag (Kashyap) and he liked my work. He told me that he would cast me in a film, but I couldn't believe that. It took a long time for the fact to sink in that I would be working with the man who made Black Friday.
In both Gangs Of Wasseypur and Luv Shuv Tey Chicken Khurana, you play the non-glam desi girl…
They may not be glamourous roles, but they are so different from each other. Mohseena (GOW) and Harman (LSTCK) are diametrically opposite. While Mohseena was a gawaar (yokel), Harman was a doctor. Both had different personalities – Mohseena was fully dedicated to Faizal (Nawazuddin Siddiqui), but Harman had a life of her own. I am at the stage in my career where I am glad and grateful that these roles came my way. As an actor I want to explore all kinds of characters.
What was the experience like, working with Kunal Kapoor?
He is always involved at the script and the scene level. Kunal thinks that no matter how much one works on a scene, "it's not enough". He would keep coming up to me and saying, 'Let's rehearse these lines'. He has been in the industry for a while, but he is still so dedicated and involved.
Kunal said that you can't ride a bike and can't cook – is that true?
No, that's a fact actually, but there is another fact – he can't dance. (Laughs) But jokes apart, he is a very hardworking actor and we had a great time shooting the film.
As Delhi girl, was it easy for you to do Luv Shuv Tey Chicken Khurana?
I am from Delhi and anyone from Delhi automatically becomes a 'Punjabi'. But it was difficult, as I have never been to Punjab in my life. I was nervous and wanted to get everything right and my director and co-actors really helped me. We have tried not to make caricatures out of characters, but tried to keep them real. We have tried to tell an entertaining story, which is light and shows a slice of life.
What do you think about item numbers?
I would just say that it's just a passing fad, just like Rs 100 crore films. I would like to be a part of films that stand the test of time.
What is important for you to say 'yes' to do a film?
It is the script that makes or breaks a film. If the script is good, the film eventually turns out well.
What was your experience at Cannes Film Festival?
I was shooting when the festival happened, so I had to request the director to let me go there, if only for three days. It was an amazing experience. After the screening, there was a standing ovation. So many people started recognising me and I felt so important. Something similar happened during OSEANS screening held at Delhi too. Both part I and II of GOW were screened back to back and it was packed. After the first part ended, there was an interval, but people didn't leave the hall to relieve themselves or buy popcorn because they thought somebody else might take their seats.
Do you share notes with your brother Saqib Saleem, as far as your professional choices are concerned?
Saqib is a Yash Raj boy (his debut film Mujhse Fraaandship Karoge was a YRF production) and I am a Anurag Kashyap girl and we stay under the same roof. Our home is a testimony to the fact that both kinds of films can co-exist. (Laughs)
You are also doing Vishal Bhardwaj's next, Ek Thi Daayan….
Yes, I do consider myself lucky. I think there are so many people who are better looking, skinny and talented than I am. I don't know what the recipe or the X Factor in my case is, but if I really had to break it down, what sets me apart is that I try and be real. I don't try and be poised and be somebody else. Probably that's what makes one interesting as a person. I feel blessed to be working with Anurag (Kashyap) and Vishal ji (Bhardwaj).
What kind of films do you like to watch?
I watch all kinds of films. I have grown up watching films and I was totally in love with Shahrukh Khan. Dilwale Dulhania Le Jayenge and Hum Aapke Hai Kaun? are my favourite films. I do watch a lot of films, not just Bollywood. For me watching a film is the best way to pass time and I don't even need company for it.
ALSO READ: LUV SHUV TEY CHICKEN KHURANA celeb reviews: Karan Johar and Ranbir Kapoor praise the movie