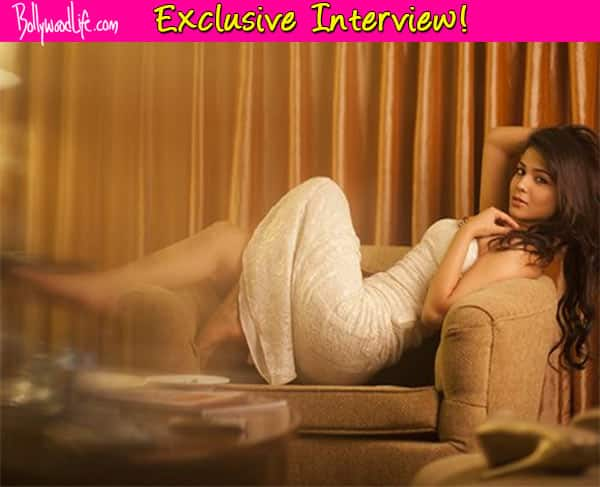 In an exclusive interview the newest Pakistan import speaks to us about the serial kisser, her upcoming film Raja Natwarlal and other things in life…
Sitting alongside Emraan Hashmi at the Disney UTV office, the pretty lady from across the border, Humaima Malik, talks to us about her experiences of working in an Indian film, her co-star and about her motherland. Gearing up for her Bollywood debut with Raja Natwarlal, the Bol heroine is pretty pepped up about her transformation from Bol to Bold. Read excerpts…
Tell us about your character in Raja Natwarlal
I play the character of a bar dancer who has very basic and humble dreams; settle down, marry Raja, have children. But she is also very intense and vulnerable. She's a very deep lover and all she cares about is Raja. He's the centre of her attention. She fears for Raja because she loves him. That's all her character is about.
How is working for an Indian film different from that of a Pakistani film?
The Pakistan film industry is very small compared to its Indian counterpart. There was a time when it had a very big stature but later on a lot of Punjabi films started coming up and people stopped watching their own films. After all it is the Islamic Republic of Pakistan and people are conservative there. We have a lot of access to Bollywood films there and we love watching them. There is a huge fan following for these Bollywood stars and songs. But the scene is changing once again. In the past 3 years or so a lot of new filmmakers have come up with some really brilliant ideas and concepts of filmmaking. There are some superb writers who are coming up with different genres of scripts. The film industry there is changing and shaping in a very different but very good way. Talking about the difference, Bollywood filmmakers are much more professional and they tend to work very largely. There are lot many people in a project who are exceedingly great at what they do. Pakistan film industry is an on-growing industry and the world will get to see a lot more good cinema coming in from that side of the border.
You did Bol, which was completely different from Raja Natwarlal. There you were the conservative girl and here you play the very bold and expressive girl. How did this transformation happen from Bol to Bold?
Actually I had coined the term 'Bol to Bold' and let it out. The transformation happened naturally. I guess, I have proved enough of my acting abilities in Bol. Films like that happen once in ten year and I am lucky to be a part of it. But I can't be waiting for that kind of a role for another ten years. So I was offered Raja Natwarlal, I agreed to be a part of the film. I got a chance to romance Emraan Hashmi and dance to some of the most beautiful songs as Emraan Hashmi films always are known for music. Also I had seen Kunal Deshmukh's previous films and I had loved them. I was excited to work with him as he is a very great director and it would be a great start in Bollywood. He has the ability to make the audience stick to their seats till the very end and that's a great quality in a director. Also Emraan and Kunal make a great combo. They have worked together for four films and I think they always have something great coming up with every release.
How were your co-actors?
I didn't have a lot of scenes with Paresh Rawal, but from what I had heard he is a great actor. He was very spontaneous on the sets. He is a great human being and is always fun to be on sets. Emraan is a very supporting co-actor. I have learnt a lot working with him.
You had said about Emraan that he has a big fan following in Pakistan. Is it just because you are working with him? Will we hear this about Shah Rukh Khan or Salman Khan or whomever you work with next, as well?
Salman Khan and Emraan Hashmi have the biggest fan following in Pakistan. You can go by their box office figures. Emraan's Awarapan had created a huge record there and even Salman's Kick now has broken all records. Having such huge box office success is proof of how big a fan following they have. It is a Muslim nation and people connect with their names and I think that's a major factor in making them big successes. Emraan is a very massy hero and lot of people do come to see his films just because he has that connection with them. Even when we were shooting at Cape Town in South Africa, a lot of Maulvi and buqua clad ladies would come and get a photo clicked with Emraan. So the comment is not because I am working with him, it is a genuine comment as he does have a huge fan base in Pakistan.
Any other future projects that you have in Bollywood?
Nothing yet. But I am hoping that if Raja Natwarlal becomes a success then it will get me a lot of projects in India.
So what else apart from Bollywood are you working in?
I work in a lot of Iranian films and for the Turkish cinema. I have worked in Dubai, as well. Raja Natwarlal took a lot of time to get over. I had to be in India along with the cast and crew as almost every third day they needed me for some portion. Also there were the regular visa issues. So it is like ten months of my life I have done nothing but this film and I really want this film to work big time. I have taken big decisions based on this film.
Which other Bollywood director would like to work with?
I really love to work with Sanjay Leela Bhansali, Aditya Chopra, Imtiaz Ali and Karan Johar. SLB makes his heroines look so beautiful and who doesn't want that. Imtiaz is a very fine director. Whenever I think of KJo his typical tune of romance just keeps crossing my mind.