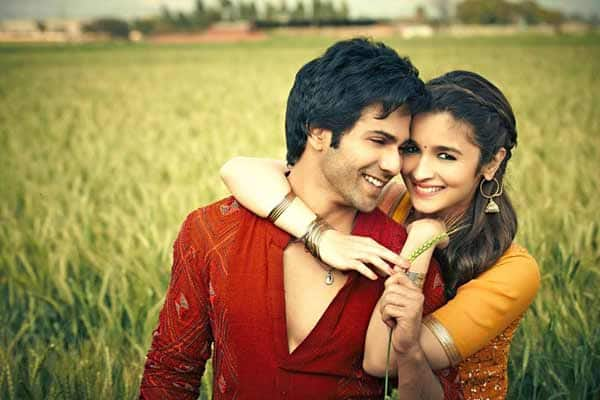 The actors showcase a modern day Raj-Simran love story which is unique and refreshing in its own way
Dilwale Dulhania Le Jayenge still stands as one of the most iconic films made in the archives of Hindi cinema. With Shah Rukh Khan and Kajol setting a bar of a love story like Raj and Simran's, one would think it hard to match the epic saga. Well the good news is, Humpty Sharma Ki Dulhania comes fairly close. With a modern adaptation of DDLJ, this Varun Dhawan and Alia Bhatt starrer hits the mark. We give you our take on the film…
 What its about
Humpty Sharma(Varun Dhawan) is a typical Delhi Punjabi munda, who enjoys his share of witty one liners, wooing women, and partying Saturday Saturday style. Kavya Pratap Singh on the other hand is a simple Ambala di kudi, who is set to be married but only in a designer lehanga, so she states. She sets off to Delhi to buy her dream lehanga and is helped by the kind hearted Humpty. The two emark on a journey to help their friend Gurpreet get out of a messy situation and amidst the chaos, fall in love. If all is hunky dory, can it be a great love story? Enters Angad Bedi( Siddharth Shukla) a picture perfect NRI intact with solid values, who is Kavya's man to be. With a local munda to her right, and a designer one to her left, Kavya faces a tricky situation which is made worse by her father Mr Singh( Ashutosh Rana), who is adamant on his stand of finding the concept of love and "the chosen one", utter gibberish
Whats hot
Varun Dhawan steals the show. With a fantastic display of typical chichora mannerisms, Varun pulls of his stint with ease and has managed to give a stellar performance. Another pleasant highlight of the film is Ashutosh Rana, who plays Kavyas father. Where Ashutosh is popularly known for his grave and serious roles, his protective daddy act in the film is refreshing to see and is balanced by him with an appropriate amount of intensity and humour. The USP of the film is the DDLJ track, which is presented with a different take. For instance where in DDLJ, Kajol is propelled by Amrish Puri to go ahead and live her life, the same is done by Ashutosh Rana, but to Humpty, instead of Kavya. There is a train sequence as well but is showcased in a practical way which makes the scence convincing. The song sequences are entertaining and are set in a manner which compliment the plot. The entire presentation of the film on the whole is light hearted and leaves the viewer smiling and content.
Whats not
Though Alia Bhatt does justice to her role in the film, the beauty could have turned it into one of her most memorable performances by mellowing down her bubbly-ness for the character of Kavya. Where the Highway actor gets it right with her expressions, her dialogue delivery seems rushed and could be more impactful if the pace is consciously worked upon. Siddharth Shukla on the other hand, though a pleasant character to watch, is seen sharing very little screen space with Alia and Varun. We would have loved to see him in a meatier role. A major disappointment in the film is the ending. A plot which seemed to be going ahead smoothly, lost its impact with an end that could be described as typical, predictable and slightly abrupt. Lets just say, the Shah Rukh Khan mono act by Alia Bhatt didn't earn the ending of the film many brownie points.
What to do
If you are a die hard DDLJ fan and wish to relive the saga of the love story with a touch of modernity and zing added to it, go watch Humpty Sharma Ki Dulhania. Humpty and Kavya will surely win you over with their entertaining romance!
Rating:
out of 5
Reviewed by Rukmini Chopra
* Poor
** Average
*** Good
**** Very good
***** Excellent