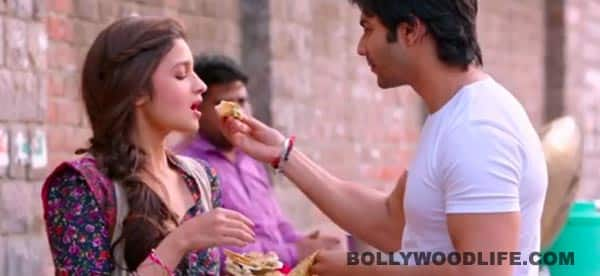 skip advertisement
From the Humpty Sharma Ki Dulhaniya franchise comes yet another memorable number. Read on to know why we absolutely loved this song…
Be it the beautiful Kavya(Alia Bhatt) reminiscing about her special moments with Humpty while travelling through a barren road amidst the green fields or the heroic Humpty (Varun Dhawan) being his dramatic goofy self with Kavya the video and the song itself leaves an impact which is heard to wear off easily. Here are three reasons as to why we think this song is awesome…
# A melodious tune topped with lyrics that sum up the word "love" aptly, Samjhawan by Sharib and Toshi is a soulful number that tickles one's mushy bones through and through. Arijit Singh has done justice to the song with his brilliant singing.
#Where the two stars were seen as a young couple in love in Student Of The Year, Alia and Varun have a come a long way since then. The two through their onscreen chemistry come across as a simple and innocent couple, sharing their lovey dovey moments with a hint of drama to not make it all sappy. Although certain scenes look quite typical, for instance Kavya and Humpty at the Pani Puri thela or Kavya tearing up to see Humpty all beaten up, the two nonetheless keep it real with their composed performances and leave you with a "feel good" factor in the end.
#The dialogue by Kavya amidst the song is a unique one and highlights the essence of romance in the song. Pehli nazar ka pyaar jo ho gaya hai tujhse (I'm in the 'love at first sight' love with you)" spoken by her, cleverly sums up the concept of love at first sight on the whole and leaves one wondering on where exactly this dialogue comes in, within the film.
We gave you our three reasons but there's a whole lot more to the video. Watch the video and tell us your thoughts.