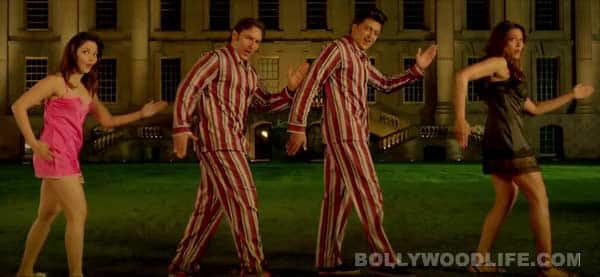 A sneak preview into the upcoming song from Sajid Khan's comic caper gives us a double deja vu
Remember Ritesh Deshmukh and Akshay Kumar in dorky night suits trying to get jiggy with Lara Dutt and Deepika Padukone respectively in Housefull's comic song Papa jag jaeega? Now think back to Right Now Now from Housefull 2 where Riteish, Akshay, John Abraham, Asin, Jacquline Fernandez and Zarine Khan are wearing sleepwear and dancing the night away in a palatial setting. After you are done jogging your memory, look at the teaser for Barbaad Raat that has recently been launched by the makers of Humshakals.
See a pattern there? We saw it too. Looks like Sajid Khan is in love with sequences that involve his protagonists dancing in giant houses in their nightwear. Trying to figure out the reason behind this fixation? Don't. You might just start thinking about his fetish for making slapstick comedies and tire yourself!
For now look at the teaser of Barbaad Raat and tell us if you agree with our observations?