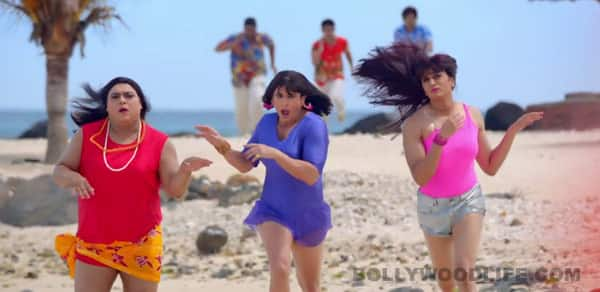 Here's a fun number from Sajid Khan's forthcoming comedy Humshakals. We give you three reasons why you must watch this song-at your own risk, that is!
Beach beauties
You must have seen bikini-clad babes strutting their stuff on pristine beaches, but have you seen three full-grown men-Ram Kapoor, Riteish Deshmukh and Saif Ali Khan-seducing their own female versions, clad in itsy-bitsy clothes? No-hold, you must click here to know what are talking about!
Himessss tadka
Himesh Reshammiya comes up with yet another chart-buster. The lyrics are quirky yet catchy and the tune is hummable. The nasal twang of Himesss bhai adds the much-needed zing to the number.
Madness works
While those who grew up listening to the maestros such Mozart or Beethoven will definitely develop an immediate aversion to the music, those who are seeking to distress their exhausted minds must go forth and watch this hysterically over-the-top song!