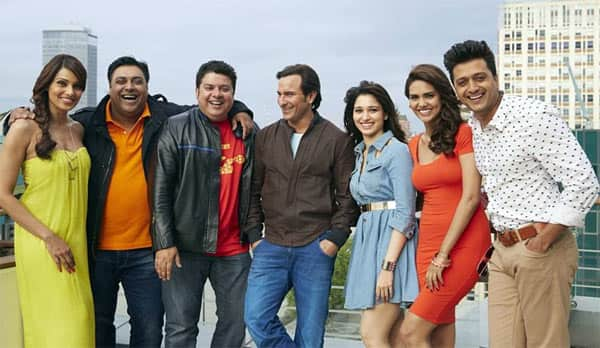 Watch the making of the first three days of this mad caper Sajid Khan film
The makers of Humshakals have come up with the video blog from the movie, which shows everyday from the shooting. The shoot was completed in 71 days and Sajid Khan, the director takes us through each day in this video blog, which has been titled Humshakals-Laughter Declassified. The film stars Saif Ali Khan, Riteish Deshmukh, Ram Kapoor, Esha Gupta, Tamannaah and Bipasha Basu, along with many other comedy actors like Satish Shah, etc.
In the first video blog, Sajid shows us the first three days of shooting which happens at the Hassler mental asylum. The shoot shows the three lead actors as mentally disturbed patients who are trying to escape from the facility. Also there is Esha Gupta who plays a doctor. Lastly, there is Satish Shah who plays the head security guard at the facility who stops these mentally unstable patients from running away. Also there is Ram Kapoor who keeps on kissing director Sajid Khan from time to time without any apparent reason.
By the looks of it it seems to be a mad caper of a film. Wethinks it will be a typical slapstick comedy film, which will definitely tickle the funny bone in some portion of the audience. So go ahead BollywoodLifers, have a look at the making video blog and let us know your thoughts on the same.