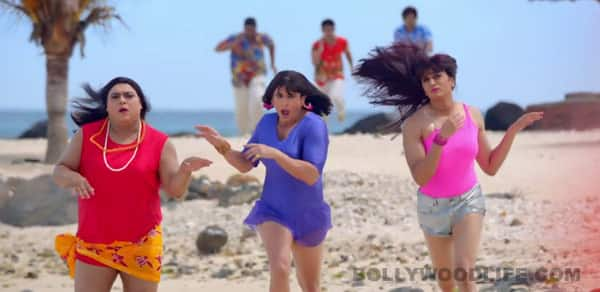 Even after entire fraternity of critics panning Humshakals, the film managing to rake Rs 46 crores in first four days is baffling
Sajid Khan is having the last laugh and boy o boy, must he be laughing long and loud. Humshakals got the worst critical drubbing in recent memory but the audience has spoken. The film has collected some 46 crore rupees in its first four days of release in India and a further 10 crore plus overseas. The first three days can be unconvincingly explained away saying that perhaps an unknowing audience had booked tickets in advance, not knowing the horrors that awaited them, but there is no explaining away the Monday where the film collected more than 5 crore rupees.Yes, we are an audience that has willingly forked out our leisure money to go and watch Sajid Khan's comedy of errors that updated Shakespeare and Gulzar's Angoor and promised us nine times the fun. It can be argued that the audience had no other choice with no major release to compete with it and that there was no cricket match featuring India to attract eyeballs away (the World Cup, for those who ask, will be played in Australia and New Zealand next year). For those who seek logic, the answer to Humshakals' box office triumph is that it catered to an audience starved of entertainment options.
Nay, Humshakals is not catering to such an audience. Instead, the audience craves the illogic served up in nine doses in Humshakals and has actively sought out the brand of entertainment dished out by Sajid Khan. The same audience embraced the inanities that were Heyy Babyy and Housefull and its sequel. You may say that Himmatwala was a flop, but the hard facts are that the film was made for 50 crore rupees and collected 70 crore, a tidy 20 crore profit, for those who can't count.
So, let us accept the fact that we are a country that loves the kind of humour that Sajid Khan dishes out, along with his buddies over in Grand Masti land. And there is nothing wrong with this. We have proved time and again that we are a nation of lowest common denominators and Sajid Khan and his ilk are merely supplying what the market demands.
Every film reviewer in the land may get on his or her pulpit and denounce Humshakals, but the hard fact is that people are willingly and happily watching the film. Live with it.
Now, if you'll excuse us, we'll be at Sajid Khan's success party, in drag. If you need to get in touch, please ring your nearest asylum. Satish Shah will be around your place in a few minutes, bearing gifts of Himmatwala and Tees Maar Khan DVDs.