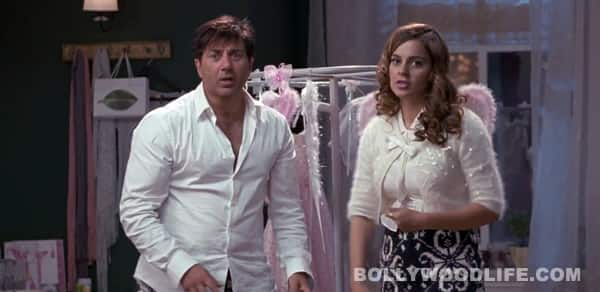 The macho star finds himself in a much younger Kangna's bedroom in the forthcoming romantic comedy
After tasting success with his last film Yamla Pagla Deewana featuring his dad Dharmendra and bro Bobby Deol, the macho star Sunny Deol is all set to play a lover 'boy' in the upcoming production titled I Love NY (New Year). In the trailer of this slice-of-life film, you see the 56-year-old Sunny playing a 40-something guy who is desperate to get married. By the curious twist of fate, he ends up in Kanga Ranaut's bedroom after a night of heavy binging.
Kangna is a happy go lucky soul who is trying to get settled in Chicago with her boyfriend. In the trailer, we see Sunny waking up from Kangy's bed in a loose unbuttoned shirt and a sexy boxer, to be more precise. All hell breaks loose when Kangna's boyfriend makes an unannounced entry in the house only to find Sunny in the bedroom.
The story revolves around this complicated situation which creates havoc only to bloom into a sweet love story between Kangy and our Punjab da munda Sunny. Directed by Radhika Rao and Vinay Sapru, this flick is produced by Bhushan Kumar and Krishan Kumar. Take a look at the promo and tell us if you would like to see this unconventional pair and the fun-looking film.