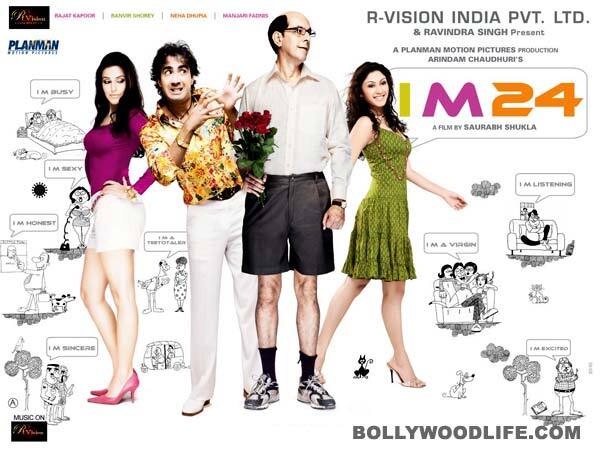 Saurabh Shukla's latest directorial project starring Rajat Kapoor, Ranvir Shorey and Neha Dhupia lacks the punch that makes a film worth a watch. But it has a few enjoyable performances and some funny scenes that make it easy to suffer
From the poster, promo and title, it's obvious that Saurabh Shukla's I M 24 is about a man who is 42 but lies through his white teeth that he is a 24-year-old. He is a balding, righteous, aspiring screenwriter Shubendu Roy (Rajat Kapoor), who lives with his friend, struggling actor Gagandeep Mishra (Ranvir Shorey). If Shubendu is like an outdated DOS computer, Gagan is like a China-made fake iPad.
Gags' world is built on the foundation of dishonesty, whereas Roy doesn't have a world because he isn't willing to climb the ladder of success with the help of lies. But one dark, depressing and lonely night the shy writer virtually bumps into a young girl through a random chat. And Roy's aversion to dishonesty is thrown out of the window, he starts lying, completely guided and supported by his roomie.
Suddenly the aspiring screenwriter's life is filled with happy and bright colours; all because of the magic of lying. He has a well-paying writing job, a beautiful friend in Delhi he is in love with, and Gag's lifestyle also changes for good.
The two men are not alone in the madness, they have company of interesting characters like Gagan's lady love Sheela Nair (Neha Dhupia), successful producer/director Nayan Sidhwani (Saurabh Shukla) and his partner Suzy (Lilette Dubey), part-time waiter full-time actor Vijay Raaz and receptionist Mona (Delnaz Paul) in the plot.
So the premise of I M 24 is clearly of a man who doesn't like to lie, but life leaves him no choice. Don't they say Love ke liye kuch bhi karega! That's what Shubendu begins to think. Being a mainstream Hindi film obviously truth has to win over after a few hiccups, and one doesn't have to spell out how the story ends.
Performance wise, each actor – from Rajat Kapoor to Delnaz Paul – does a commendable job. Thanks to Ranvir Shorey's fine acting skills, he manages to create the same comical chemistry that he shares with Vinay Pathak, with Rajat. Without Gagan, Shubendu would definitely be a dull man who nobody pays attention to. Neha, as a struggling actor who wants to be a star, is a pleasure to watch in the limited role she has been given. Even Vijay Raaz, who has very few scenes, makes a strong impression.
And it's the actors' art and efforts that make Saurabh Shukla's poorly-written and directed I M 24 worth your time and money. There are some good, funny lines in the film, but the redundant plot wipes off any memory of it.
Visually cinematographer Fuwad Khan beautifully captures the picturesque side of Mumbai. Unlike many Hindi movies, a lot of scenes in I M 24 are shot on real touristy locations like Marine Drive, Nariman Point, Juhu beach et al. Yet Khan has added new appeal to the famous sites of the concrete city.
Overall there are more minuses than pluses in I M 24. So only if you don't have anything interesting to do over the weekend spend your moolah on the movie, for two reasons – one, for good performances and two, so that hopefully the makers can recover some of the film's production cost.
Rating: 2/5
* Poor – Avoid!
** Average – Give it a shot if you are desperate!
*** Good – One time watch!
**** Very good – Must watch!
***** Excellent – Don't miss!