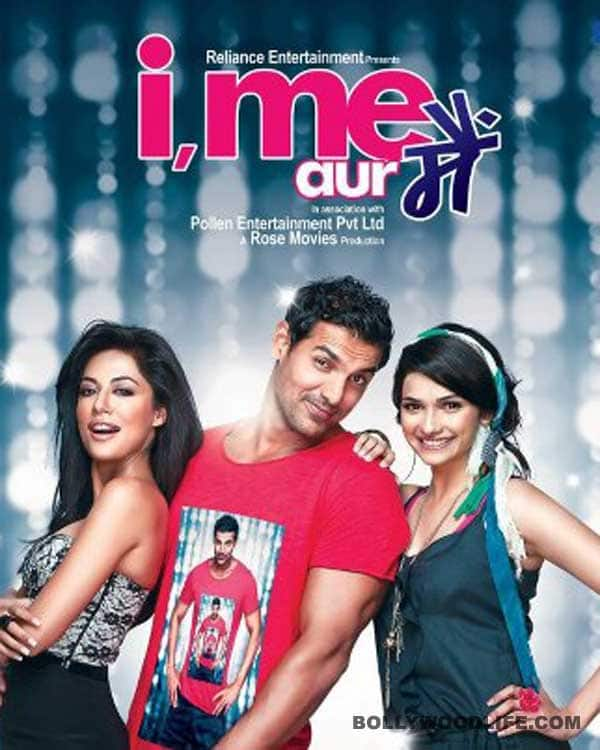 In his debut film I Me Aur Main – starring John Abraham, Chitrangda Singh and Prachi Desai – director Kapil Sharma tries to tell the story of complicated love equations of a selfish protagonist, but he fails to knit a convincing, consistent and believable plot
I Me Aur Main is not your regular love triangle. But so liberally complicated are the characters of debutant director Kapil Sharma's sleek-looking film, that after tolerating them for more than two hours, you get a sense of exhaustion and feel sorry for the first-time filmmaker.
Had Sharma chosen a simple, straightforward and uniform narrative instead, it would have saved the audiences the trouble of tolerating the nausea that comes from watching a sluggish and an incongruous screenplay coupled with unbelievable characters who behave according to their whims and fancies. There's no denying the fact that the director has a desperate urge to tell a story with a message, but so scattered are the pieces of the narrative that in the end, instead of getting a coherent picture, you arrive at a conclusion that is bizarre and even funny!
John Abraham plays a Mumbai based music producer Ishan who believes that he's the best (certainly this is not one of John's better performances). Ishan is extremely irresponsible and incredibly self-centered. He lives in with his lawyer girlfriend Anushka (Chitrangda Singh) who does all the work and allows the party-freak Ishan have his way. Ishan neither spends a penny nor spares a minute for the upkeep of the house. All he keeps saying is 'I'm the best' as he saunters in and out of Anushka's house in his polka dotted boxers.
In spite of his careless attitude and disgustingly intolerable selfishness, Anushka accepts him without saying a word because she loves him deeply. But so full of 'I Me Aur Main' thoughts is the dude that when Anushka says 'I love you,' Ishan replies with an air of arrogance 'I love me too!'.
Things take an ugly turn when Ishan ditches the plan of introducing Anushka to his parents and chooses to party the same night instead. An enraged Anushka throws him out of her apartment and decides to put an end to their relationship. The young music producer moves into a new house. His mother (Zarina Wahab) comes down to Mumbai from Pune to comfort him, thinking that her pampered son needs support. In the meanwhile, Ishan's new neighbour Gauri Deshpande (Prachi Desai), a stylist by profession, starts getting friendly with him. Gauri's spunk, her charm and zest for life attract Ishan. Love blooms between the two. The twist in the tale comes when Ishan's ex-girlfriend Anushka discovers that she's pregnant with Ishan's child. Fiercely independent, she doesn't expect him to come back into her life, yet she feels that its Ishan's right to know that he's going to be a father now. Will Ishan's true love Gauri change him into a responsible individual? Who will Ishan choose in the end – the love of his life Gauri or the mother of his child Anushka?
If the plot sounds clichéd and bears similarity to at least a dozen formulaic Bollywood potboilers, you will be even more surprised or should we say shocked with the unbelievable twist given to the tale in the second half. Though the screenplay and the overall treatment are easy on the eye, it is the immaturity with which the lead characters are dealt with that makes the result look disjointed.
John Abraham tries hard to deliver an honest performance, but doesn't convey the various moods with much distinction. He uses his regular set of expressions in his limited repertoire – the frowning lines on his forehead, dimpled smile and glycerin soaked teary eyes – which we have seen in almost all of his movies so far. Chitrangda too makes her usual striking presence felt but fails to offer any novelty. Prachi Desai is the only saving grace with her chirpy character, but the poor writing and lazy direction let her down. Zarina Wahab has done justice to the role of a doting mother. Both Raima Sen and Mini Mathur are good in their roles, but their characters hardly offer anything substantial to the story that has loopholes the size of lunar craters. As far as the film's music is concerned, Sachin-Jigar, Gourov Dasgupta, Falak Shabir and Raghav Sachar's compositions are soothing and all the tracks are appropriately placed – Saajna and Darbar being particularly hummable.
All in all, I Me Aur Main is a one-time watch even for hardcore John Abraham fans, but for the rest, it could turn out to be both mind as well as a butt numbing experience.
Rating:
out of 5
Reviewed by Prathamesh Jadhav
* Poor
** Average
*** Good
**** Very good
***** Excellent