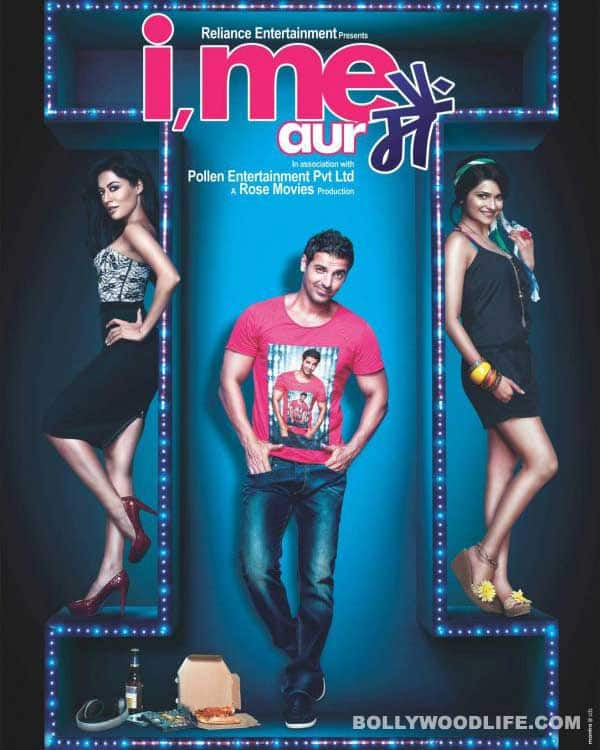 Music: Sachin-Jigar, Falak Shabir, Gourov Dasgupta, Raghav Sachar
Lyrics: Kumaar, Kauser Munir, Mayur Puri and Neelesh Mishra
Singers: Anushka Manchanda, Neha Basin, Neeraj Sridhar, Shaan, Monali Thakur, Falak Shabir, Abhishek Nehwal, Divya Kumar
Fresh from the success of Any Body Can Dance, Sachin-Jigar have composed three songs for the I Me Aur Main (starring John Abraham, Chitrangda Singh and Prachi Desai) soundtrack. Pakistani pop singer and composer Falak Shabir makes his Bollywood debut with one track and Gourav Dasgupta and Raghav Sachar render one song each.
First up are Sachin-Jigar's compositions. Naa jaane kahan se aaya hai, sung by Neeraj Sridhar and Anushka Manchanda, is a rejigged version of the hit song Na jaane kahan se aayi hai from the 1989 hit movie Chaalbaaz. The duo adds fresh bits to the original chorus portions to create a fun number. Kausar Munir's saucy lyrics, the saxophone, digital enhancements and Anushka's edgy rendition make this new age version a fitting tribute to the original song. And it's definitely a classic when compared to the other remix of the year – Naino me sapna from Himmatwala!
Cappuccino is a blatant copy of Massachusetts-based Irish punk rock band Dropkick Murphys' most famous song I'm shipping up to Boston (which also was the theme song for the Academy Award-winning Martin Scorsese film The Departed). Of course, the heavy punk portions have been toned down to suit Bollywood tastes. This one's got funky Hinglish lyrics and cashes in on the addictive beats of the original. But comparing it to Dropkick Murphys' track is just out of question!
Finally…Sachin-Jigar compose an original song for this album: Darbadar. The ektara, clap sounds and Monali Thakur's silken voice lead you into this Sufi number that slowly zooms into a high energy song. Monali gets the chance to sing a semi-classical number for the first time and she truly shines. It's a poignant composition, with Mayur Puri's philosophical lyrics like Tute jo tinka to hawa ka aasra, tua jo sitara dua ka aasra, dil toote to wo jaye kahaan. Dialogue writer and lyricst Puri has been associated with musical duds like Speed, Kidnap and Prince, but he shows great promise with his poetic writing in this one.
Falak Shabir composes and sings Saajna – a gentle yet passionate song. The groovy guitaring is the highlight and Falak's silky smooth voice also works wonders. He could definitely be the next big musical find from Pakistan. There is also an unplugged version of this song that is soft and easy on the ears.
Raghav Sachar's Nasha nasha – originally from the film Daddy Cool (remember the over the top comedy?) – finds a place in this album, and we wonder why! Neha Bhasin's seductive rendition doesn't resurrect the average composition. A dance song like this needs to have a hook and that's what's missing.
Meri janiye is a mushy romantic song composed by Gourov Dasgupta. Shaan is in familiar territory as he sings this breezy number, accompanied by Monali Thakur. Even though it's easily likeable, it's a typical love song with nothing new to offer.
The various artists come together to compose a youthful and groovy soundtrack for this romcom – a mix of instant hits and mushy numbers.
Rating:
out of 5
Reviewed by Suparna Thombare
* Poor
** Average
*** Good
**** Very good
***** Excellent