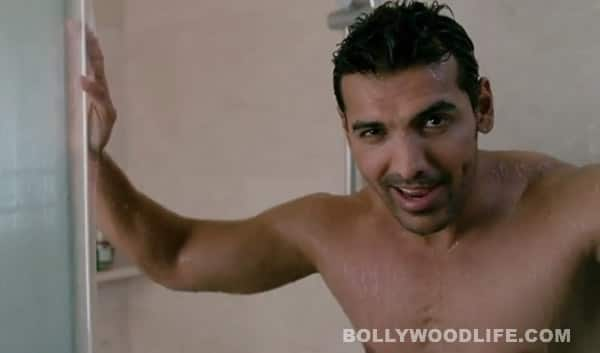 The hunky actor looks his chirpy best in this fun track from his forthcoming release co-starring Chitrangda Singh and Prachi Desai
Heavily inspired by Dropkick Murphys' rock hit I'm shipping Up To Boston, the new song Cappuccino from I, Me Aur Main is an enjoyable track. Sung by Abhishek Nehwal, it definitely has the unmistakable feel-good ingredient to it. John Abraham looks irresistibly hot as he comes out of bed (not to forget – with the sizzling Chitrangda Singh) and steps into the bathroom. He then moves from a plush coffee house to a funky bar, as he hums this youthful number.
I, Me Aur Main promises to be an interesting love triangle comprising John, Chitrangda and Prachi Desai. We are curious to know who our Johnny boy will end up with eventually. To get the answer to that one, you have to watch the movie, which releases on March 1. For now, watch this peppy number and tell us what makes John such delicious eye candy!
[jwplayer mediaid="191989″]
MUST WATCH: I, Me Aur Main song Na jaane kahan se aaya hai: John Abraham looks super sexy!