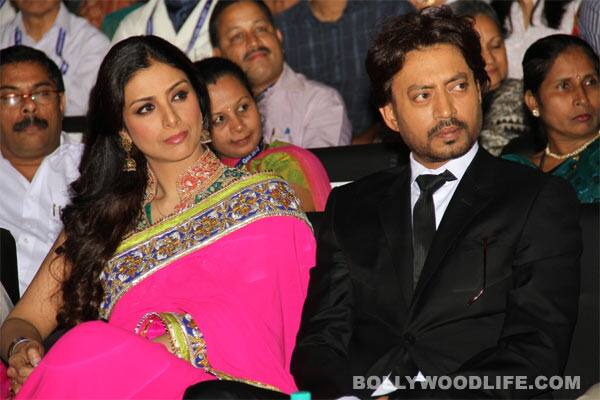 Cineswami gives a low down on the happenings at the 43rd International Film Festival of India
India's gift to world cinema, Irrfan, and his Life of Pi co-star Tabu, were the life and soul of the party at the opening of the 43rd edition of the International Film Festival of India at Goa. The festival opened with Pi. Though director Ang Lee was not present, he had thoughtfully recorded a video message that was played before the film. The screening itself was a delight for some and a disaster for others. Those fortunate enough to get 3D glasses delighted in the cutting edge effects in the film while many, who were not given the glasses, watched a blurry mess, with several leaving the auditorium in disgust. This is symptomatic of the poor management that has plagued the Goa festival for years.
Earlier, Bollywood star Akshay Kumar brought the audience to their feet while inaugurating the festival – literally so, because he made everybody stand up for a minute's silence in honour of his late father-in-law Rajesh Khanna.
Plagiarist Barfi! filmmaker Anurag Basu was seen in deep conversation with Irrfan, Tabu and Hate Story star Paoli Dam. Also present were Jackie Shroff and Vinay Pathak who were their usual ebullient selves. Oscar-winner Resul Pookuty made an entrance with 3 director Aishwarya Rajinikanth Dhanush. Master of ceremonies Kabir Bedi made up for his fumbles (he forgot Ang Lee's filmography) with his gravelly baritone.
Matters were altogether more civilised at the NFDC's Film Bazaar. Film professionals from the world over gathered to discuss the business of cinema. C-lister Sanjay Suri was master of ceremonies. Om Puri made an appearance while Ramesh Sippy and Goa chief minister Manohar Parikkar both provided the gathered crowd with the nugget that the business aspect of cinema is indeed important and films wouldn't exist without it. As expected, there was a collected gasp of awe from the audience upon receiving this priceless information.
And in the only real news of the day, Amitabh Bachchan has signed up to play the title role in Kabuliwala, based on Rabindranath Tagore's immortal short story. French-Afghan filmmaker Atiq Rahimi will direct. The film will shoot in Kolkata and Jaisalmer from June 2013. Rahimi and co-writer Jean-Claude Carriere have transposed the story to present day Kolkata. Remains to be seen if Bachchan can equal or best Chhabi Biswas's towering performance in Tapan Sinha's 1957 Kabuliwala or Balraj Sahni's acting masterclass in Hemen Gupta's 1961 version.