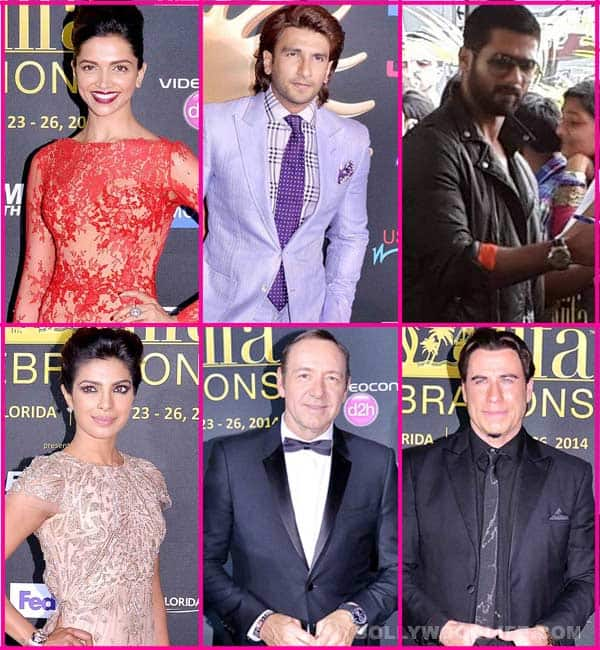 IIFA happened! And now that the pomp and show is over we cannot wait to give you the inside story, rather stories that will make IIFA the juiciest affair of this season for you! Read on to find out what Bollywood's who's who did at the most starry event of this year…
Priyanka Chopra and John Travolta perform at IIFA 2014
Well let's begin with the actor who ruled IIFA this year. You guessed it right! Priyanka Chopra looked radiant like a star at the event and she managed to groove with the Most Popular International Star of all time, John Travolta! Travolta and Piggy did the jiggy to Tunay Maari entriyaan and the badass Travolta did his own moves to the song!
Itna hi nahi, her single Exotic was also praised by the singer-actor legend Travolta. But all wasn't good in PeeCee's paradise! Reportedly, Kareena Kapoor Khan gave poor Piggy Chops a cold shoulder at the event. Priyanka went up to Saif and greeted him personally while the begum simply looked away, deliberately ignoring PeeCee. Tch Tch Kareena, why so immature? We understand why you had to ignore your past (read Shahid Kapoor) as it stood right across the stage. We understand why you didn't even look in Shahid's direction as you gave away the Best Playback male award with your hubby Saif! But cut Priyanka some slack, alright?
Priyanka Chopra, Deepika Padukone and Sonakshi Sinha's girlie time
While Kareena said no to bonding with her contemporaries, actors like Deepika Padukone, Kalki Koechlin, Sonakshi Sinha, Bipasha Basu and Piggy Chopps were all for sisterhood at the event! Bipasha, Deepika and Priyanka bonded over dance rehearsals and event tweeted pictures as they posed for the camera. Not just that. Kalki went on stage to collect Remo D'Souza's award on his behalf and she took her Yeh Jawani hai Deewani co-star Dippy along. The two beauties even performed the Badtameez dil signature move on stage! For a change, it was lovely to see Bollywood babes being non-catty in the selfies they tweeted.
Moving on to more dance performances, the Indian superhero also managed to have some stage time with the international badass! Hrithik Roshan showcased his cute and effortless dance moves and then proceeded to shake it with Travolta as the two did some of the Pulp Fiction actor's legendary moves. Now that we are talking about setting the stage on fire, we cannot miss mentioning the Lungi dance! Ranveer Singh's ladylove in her lovely red floor-length gown did the Lungi dance with Shahid Kapoor, Farhan Akhtar and, wait for it, Kevin Spacey! The Academy Award winner looked ridiculously adorable as Deepika taught him the Lungi moves! And she did so while wearing a lungi on her dress! Not just Dippy, even Spacey, the Bhaag Milkha Bhaag actor and the R…Rajkumar actor too wrapped on lungis to do the Lungi dance how it is meant to be done!
Deepika Padukone and Ranveer Singh's IIFA performance:
The Chennai Express actor had more than one reason to be elated at the IIFA awards this year. Not only did she groove with Kevin Spacey, she also won the award for best actor female and stole some stage time with her boyfriend Ranveer Singh. As the two came together on the stage for a brief moment, one could sense the joy they experienced. The lovebirds delivered individual dance performances as Deepika danced to Dilliwali girlfriend and Ranveer grooved to his hits in a shiny jacket dotted with red hearts; pure Gunday style!
Ranveer Singh's dilli wali, oops we mean dil-wali jacket is not all that attracted eyeballs. He made a total filmi entry on stage on a motorcycle that made his lady fans watching the act go totally crazy. And if we were to talk about women drooling let's not forget the plentiful sex appeal Hasee Toh Phasee actor Sidhharth Malhotra brought on the stage. As Sidhharth dazzled on stage, Parineeti Chopra brought in oomph when the two joined each other in a sizzling dance performance. Though we aren't crazy about Parineeti's attire in this one, we can't help but hope that the Ishaqzaade actor will someday perhaps hire a better stylist.
Selfie time at IIFA 2014
One can't talk about the glamour at IIFA and miss talking about how selfies became a rage at the event. The selfie fever seemed to have taken IIFA by a storm! The selfies taken and tweeted were a proof of how glitzy the 15th IIFA awards event at Tampa Bay was. While Ranveer was seen taking selfies with his fans as he walked on the green carpet, oh-so-adorable, Shahid Kapoor tried to ape Ellen DeGeneres' Oscar selfie as he held the camera and there was one person who featured in both the Hollywood as well as this Bollywood selfie. Can you guess who we are talking about? Leave your answer in the comments section below 🙂