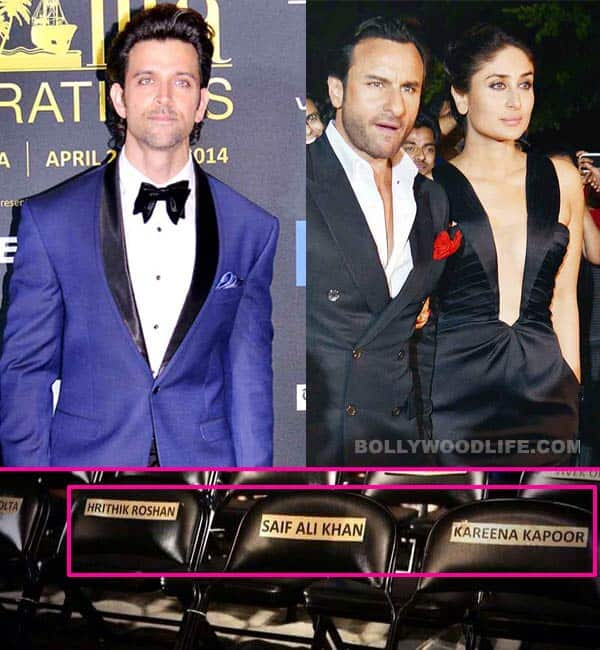 Kevin Spacey and John Travolta were surely the highlight of IIFA awards 2014 which was held at Tampa Bay, Florida. But some of our B-townies also had their moments, sadly they were the awkward ones and not iconic
The 15th International Indian Film Academy awards night was nothing less than magical this year. Thanks to Hollywood superstars Kevin Spacey and John Travolta who not only graced the occasion but also enthralled the audience by performing on the stage with B-town beauties Deepika Padukone and Priyanka Chopra respectively. While this surely paints a rosy picture of the IIFA 2014, there were some not-so-friendly moments too courtesy some exes bumping into each other at the awards ceremony. We take a look at them…
Kareena Kapoor Khan – Shahid Kapoor: We all know about this couple's not-so-successful love story. In fact, the two have maintained safe distance from each other post their break up. But recently at IIFA awards, the former couple came face-to-face and what made the situation more awkward was the fact that Kareena was accompanied by her hubby Saif Ali Khan. The Nawaab of Pataudi and his wifey came on the stage to give away an award and Shahid was hosting the event. So this situation wasn't really avoidable, hai na?
Hrithik Roshan – Kareena Kapoor: This duo was said to be dating at one point though neither of them ever confirmed being in a relationship. Bebo and Duggu were even supposed to do Karan Johar's film Shuddhi but things didn't work out as the latter walked out of the project. Considering the two agreed to do the film, we thought all was well between KKK and the honey-eyed actor. However, that's not the case coz at the recently concluded award function in Tampa Bay, Hrithik, Saifu and his begum were assigned seats in the same order and the trio wasn't really happy. Now that was more than just an awkward encounter, no?
Priyanka Chopra – Kareena Kapoor: They may have patched up in front of the cameras but in real these two still can't be cordial with each other. At IIFA 2014, when Aitraaz co-stars spotted each other, they did not greet or exchange pleasantries. PC met Saif and hugged him who was standing right next to his begum. But neither did the Exotic babe nor Ms Khan attempted to break the ice between them.
Bipasha Basu – Shahid Kapoor: After Bips parted ways with John Abraham; rumours were rife about her being romantically involved with the Kapoor lad who back then had just split with Priyanka Chopra. So when this duo met at the IIFA awards night, it was a very cold moment specially coz Ms Basu royally ignored the Jab We Met actor.
Sonakshi Sinha – Priyanka Chopra: Now this wasn't really an awkward moment for the Dabangg babe and Ms Chopra. But it sure must have been for Shahid. After all, one of them is his alleged current girlfriend and one is his ex. Guess we don't need to specify which is one is what. At the awards show in Tampa Bay, Sona and PeeCee were seen bonding big time and the latter one even posted their selfie. SK would have been little worried coz the Exotic singer along with the picture wrote on Twitter, "Gossip girls." Wonder what were they talking about….