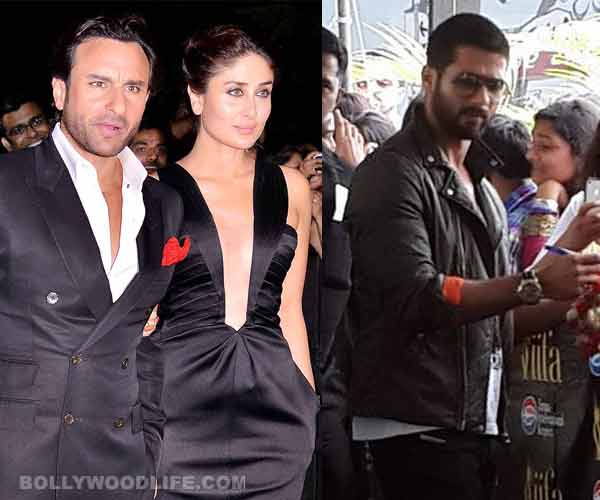 The ex-lovers of Bollywood crossed paths at a recently concluded award function. So did they avoid each other like usual?
Shahid Kapoor and Kareena Kapoor, who ended their relationship in 2007 came face to face at the recently concluded award function in Tampa Bay, Florida. So did they acknowledge each other or were the ex-lovers uncomfortable? Considering their previous encounters, many expected this Jab We Met duo to ignore each other. And this time since the begum was accompanied by her nawaab, Saif Ali Khan, we surely didn't expect her to share any pleasantries with Shahid. But guess what? Bebo greeted her ex-boyfriend cordially. Yes, you read that right! Here's what happened…
At the main event of IIFA 2014, Kareena and Saif stepped on to the stage to present an award. Shahid, who was co-anchoring the segment with Farhan Akhtar, was standing at the far end. And to Shahid's surprise, Kareena greeted him cordially. Saif, who was standing right beside his wife, smiled too. So what was Mr Kapoor's reaction to this, you ask? From what we hear, Shahid responded to his ex lady love's 'Hi' courteously. However after Saifeena stepped off the stage, Sasha turned to Farhan with a grin and asked, 'Did she say 'Hi' to me?' It seems that Shahid was left completely speechless by Bebo.
If you will remember, this ain't the first time when Shahid and Kareena have crossed paths at an event. Not so long ago, bebo walked into Shahid's rehearsals. However, as soon as she got to know about her ex-boyfriend's presence, she got a bit uncomfy and chose to leave the venue at the instant.
But after this whole IIFA scene, looks like the 36 China Town co-stars have decided to let the bygones be bygones. Looks like that day is not far when we will see this ex-lovers together on the silver screen again. After all, the two have always maintained that if an interesting script comes their way, they'd be more than happy to share the screen space again. We hope Sasha's current alleged girlfriend Sonakshi Sinha wouldn't mind that? Wink wink!