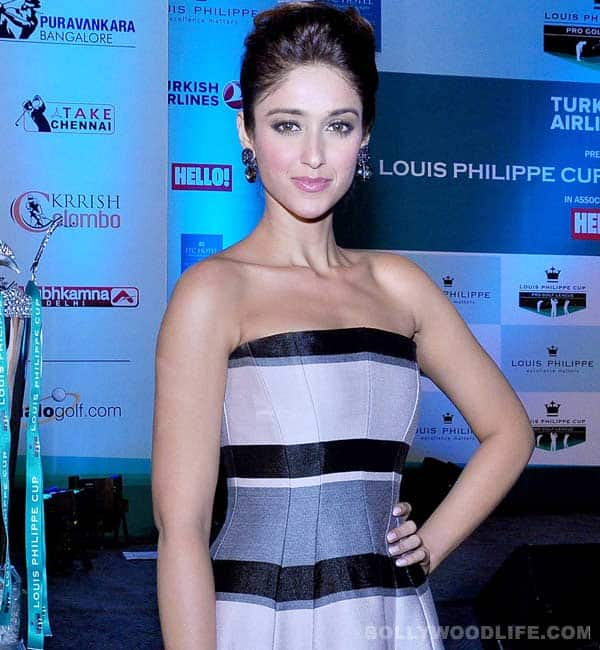 Did Ileana have catfights with Nargis? Did she fall in love with Varun on the sets? How was it working with the famous David Dhawan? Read on to find out…
Before the release of Main Tera Hero, we thought of catching up with the petite beauty Ileana D'Cruz, to know what she thinks of Nargis Fakhri, Varun Dhawan and David Dhawan. Read on to know the juicy titbits of gossip that she shared with us!
You have worked with established artists like Ranbir Kapoor and Shahid Kapoor before; how was it working with Varun?
Amazing! It was a wonderful and very different experience. More so because, Ranbir and Shahid are completely different actors and Varun is a completely different actor. The most amazing thing about Varun is his enthusiasm. He is so willing to do almost anything, try out everything to make a particular scene better or to make the film work better. In fact I have joked with him so many times that Varun you're trying to be and do everything in the film. Take it easy! In fact, working with Varun made me enjoy my work even more. I see acting very differently and so Varun has an entirely different point of view. So he has been a kind of inspiration.
Do you think you are more comfortable with Varun than you were with Shahid or Ranbir?
I think we hit it off very well. It was also because we are of the same age group. Also, Varun and I had more scenes as together, as compared to Shahid and me in Phata Poster Nikhla Hero or Ranbir and me in Barfi!. That obviously played a big role. I don't know Shahid and Ranbir personally 'coz I never got to interact with them on a very personal basis. Varun is like a college buddy and we can't talk about anything.
How do you deal with the fact that Main Tera Hero concentrated more on your looks than performance?
Its great na, isn't it? After all, in Barfi!, I never got to show off how hard I worked on my body. That being said, both the roles are very different and I enjoyed working in both films immensely. Yes, Main Tera Hero is obviously more fun 'coz nobody has to take the film seriously. It's a light-hearted film, which is made for the audience so that they can have fun while watching the movie. Barfi!, on the other hand was a serious movie meant to engage the audience in an entirely different manner.
So, did you consciously choose Main Tera Hero 'coz it would give you a chance to flaunt your body?
Absolutely not! I am in fact very conscious about my body. I don't even take compliments given to me about my body very seriously. I just pass them on thinking, yeah whatever, they are just pulling my leg. Main Tera Hero was a welcome change from what I had done before, that's why I chose the film.
Can you tell us about your image down South?
I have a very glamorous image in South.
Women oriented films are the flavour of the season, are you looking at doing such films?
I don't have a plan in place that I want to do a particular kind of roles or enter a particular league. I don't want to do anything insignificant but I don't want people to slot me also. For instance, a film like Barfi! won't happen again or it might, in some years, but it's a rare thing.
Is it a coincidence that all the directors that you have worked with are very established?
Not really. Like I said I won't do anything insignificant. In the same way, I won't take up anything mediocre. It was a conscious choice to work with Rajkumar Santoshi and David Dhawan is a legend in his own field. So, yes working with good directors is definitely part of the plan!
How was it working with David Dhawan?
He is not what I expected him to be. Davidji is more like a friend. He is old enough to be my father but he kept the atmosphere alive on the sets and I knew I could talk to him about anything and everything. In fact eventually, he got to know the real me. He said you know people don't know that you're a really big kamini. So it was fun – like being with a friend on the sets. I felt like I was working with family. There were no pretences and it was all easy going. He was probably the biggest prankster on the sets. He is very young at heart. He goes out of his way to make you comfortable and to come down to your mental age.
How was it working with Nargis Fakhri?
It was amazing! We get along really well and we are similar when it comes to our natures. So yes, we are friends are we like hanging out with each other. We even share our Hindi woes. Both of think in English and then translate the statement in Hindi. So yes, we could even crib together!
You've worked with the hottest heroes onscreen, but we've never heard of any link-up stories about you. Why is that?
That's 'coz I was not attracted to any of them. Onscreen, I'm a very good actor and show the chemistry but never really got attracted to any of them.
Usually there are some or the other rumours. Nothing about you?
I believe there's no story without a rumour like there's no smoke without fire. You never know, the industry is a very small place. So I think if there is something it will come out.
What does Varun have that Ranbir and Shahid don't?
Varun has me as a friend!
What is the idea of your ideal man?
I don't like people who pretend to be what they are not. Chivalry goes a long way with me. I like honestly and kindness in a man.
So who comes the closest to being your ideal man from Bollywood?
I think maybe Varun. Varun is so disconnected from the film industry, he is honest and real. He is a genuine man.