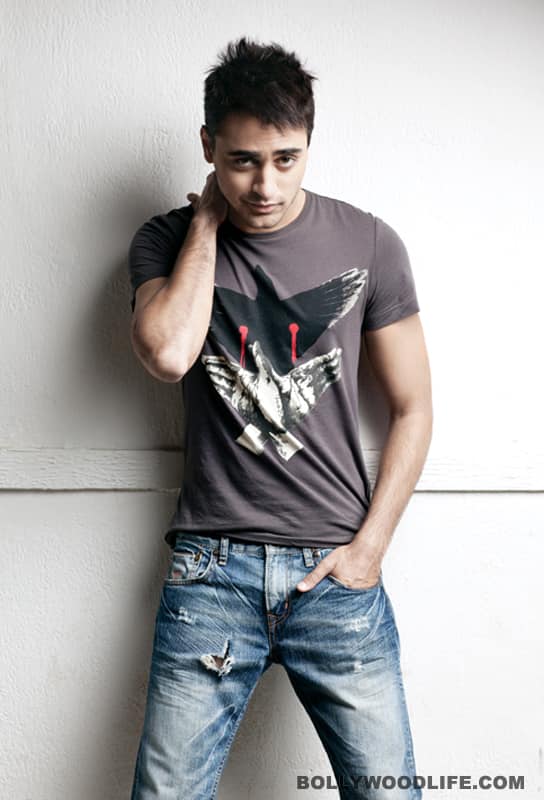 Delhi Belly has raised many eyebrows but Imran Khan is not apologetic about being outrageous. He believes it is a realistic portrayal of modern Indian youth. The 25-year-old actor gets candid about the controversies surrounding his latest flick
A hue and cry is being made over the expletives used in Delhi Belly…
This is how everyone talks nowadays. It is not a shock or a surprise to anyone. If anyone is shocked or surprised, then they are really out of touch.
Were you guys prepared for this kind of brouhaha?
We had taken the decision of laying our cards on the table and telling the audience that this is the kind of film we are making. We didn't want a situation where people come in expecting it to be a family film, and with children. We have been very upfront. So, anyone who is likely to be offended will not come. And anyone who is likely to come in to watch should be the kind of person who will be interested in it.
What made you say yes to Delhi Belly?
This is the kind of film I have always, always, always wanted to do. I have always been a huge fan of Tarantino, Guy Ritchie and these kinds of filmmakers. I have loved the kind of films these guys make. And I had always regretted that I would not get to be a part of such a film because we don't really make such films in India. When I read this script, it was exactly in that genre of films. So, for me it was a lifetime opportunity.
Don't you fear that with this film, you will tarnish your sweet boy-next-door image?
I have never been concerned about an image. I think images are made and broken on a film-to-film basis. Whatever film you do, people accept that image of you. One day you do an action film and people like you in that, another day you do a romantic film, they like you in that, and then follow it up with a comedy. People are interested in films.
But each actor has a strong persona that suits a certain type of character. You have this realistic regular guy charm…
Tashi in Delhi Belly is also a very normal guy. He is a very simple, straightforward and an average guy that everyone would be able to relate to. I think that the only thing that is different in this film is that we have shown how young people talk. We are not covering it up.
For the first time you lock lips onscreen. Did you discuss it with your wife Avantika?
I have to give Avantika credit that she has always been very comfortable and good about separating my onscreen romance from real life. She has never really given me grief.
Were you comfortable kissing onscreen?
Not really. It is a little weird. You have to kiss someone whom you really don't know. You can get to know someone, but how much? We were shooting for two months; while shooting one can be friendly and pally, but definitely it's not a romantic relationship.
Are you a fan of hip-hop music?
No, I am not. I am a rock band person.
Who came up with the idea of the Switty tera pyar chaida video?
The song is in the film but the video is not. The film is set in Delhi and Punjabi hip-hop and Punjabi rap is very big in the north. So we created the song in that style and vein. It is choreographed by Baba. We shot it in one day. This was a crazy video to shoot. They literally told us just go out there and do the strangest and weirdest stuff.
Would you have done the film if it was not backed by Aamir Khan Productions?
I think with this script I would have done it with most producers. I am a great believer in having a strong and capable producer on board. If I had anyone who I thought was a good producer, I would have done it.
Share a weird on-the-sets memory…
I shaved Vir Das' head. He goes bald in the film. So on the day we were shooting the bald part, we called in a barber to shave his head. This guy had this straight razor, an ustura, and Vir was getting worried as the barber was doing some weird stuff on his head. So I told him to relax and I actually shaved off his head.
What is it like being married? Sharing space, being responsible for another person, stuff like that…
Avantika and I had lived together while we were together in the US as well. So, we are quite used to each other in that sense. I really don't see how life changes after marriage. It's just a piece of paper, ya!
Are you happy with the way your career is progressing?
It is actually a very good year for me. I have three films this year. One with Aamir Khan Productions, one with Dharma Productions and one with Aditya Chopra (Yash Raj Films) – I don't think it could possible get any better than that.
I Hate Luv Storys, Break Ke Baad, Mere Brother Ki Dulhan and Short Term Shaadi are all in the same vein. Don't you feel you are repeating yourself as an actor?
No, because the characters are very different from one another. They are boy-girl films but, let's be honest, that's what we make in India. That's what we like. Mere Brother Ki Dulhan and Short Term Shaadi are dramatically different from one another. MBKD is a much earthier film, a classic song and dance, Yash Raj style Bollywood film. And STS is a subtle, coming of age, slice-of-life film.
Now that you have done films in most genres, what is next?
I have not signed anything. And I never talk about scripts that I am reading. Neither do I sit and look for something specific, because if you do that then you are going to miss out on what's in front of you.