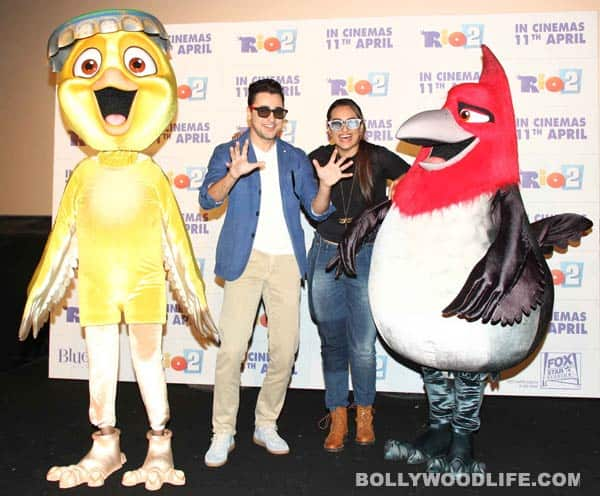 Sona and Imran have lent their voices to an upcoming Hollywood flick
A little birdie from Rio 2 tells us that Imran Khan and Sonakshi Sinha had helluva time at an event recently. Rio 2 is the sequel to Rio, which will bring back the lovable, eccentric characters from the original film (Blue, Jewel, Tulio, Linda and Nigel) in an even wilder, more colorful adventure with new music and dance sequences, new non-bird characters which add depth to the story and imagery. And of course, our B-town birds, err actors Sonakshi and Imran who have lent their voice to the animated flick.
Sonakshi and Imran's voices have been lent to the main leads, macaws Blu and Jewel in the Hindu dubbed version. Recently, the duo graced an event which showed special 20 minutes of 3D clips and the Hindi trailer of Rio 2. It's the first time that B-townies have lent their voice to a Hollywood animation film, we hear. Sona and Imran were joined at the event by 2 memorable characters from Amazon, Nico and Pedro from the Rio franchise. We hear that the B-townies had a fun experience at the event and were even heard laughing at their own dubbed scenes. They even shared their experience while working on Rio 2.
Rio 2 will hit the theatres on April 11 in English, Hindi, Tamil and Telugu. We're quite excited to watch Sonakshi and Imran's Hindi version of Rio 2. What about you, BollywoodLifers?