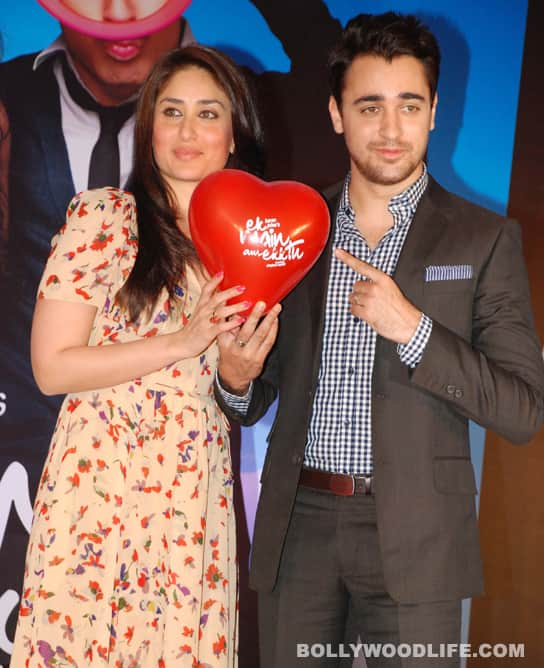 The actor claims he had a secret crush on his Ek Main Aur Ekk Tu co-star in his teens. Uh oh…
We know stars say a lot of things while promoting their films, but something Imran Khan said while talking about Ek Main Aur Ekk Tu reallyhad us laughing out loud. EMAET is the first time Imran is being paired with Kareena Kapoor, and they play two people who accidentally get married. When asked about Bebo in an interview, Imran reportedly said that ever since her first film, Refugee, he has nursed a silent crush on her. He added that he found it difficult to even talk to her till they began shooting for the film. Poor Kareena. Bad enough that she is playing a heroine who is a year older than the hero on screen, but her own co-star makes everyone believe that she is actually much older than him!
We can understand when Abhishek Bachchan says he had a crush on Zeenat Aman, or Ranbir Kapoor confessing to his silent passion for Madhuri Dixit, or even Vidya Balan saying that she kinda liked SRK (which one?) when she was younger, but Imran saying that Kareena was a part of his boyhood dreams really takes the whole bakery. Think about it and you'll see that there's an age difference of only two years and three months or so between them. Sigh. Here Kareena is trying to move away from the Khans and act with younger heroes, and Imran is inadvertently making it look like she is from an older generation. We wonder what Begum-to-be Bebo has to say about this!