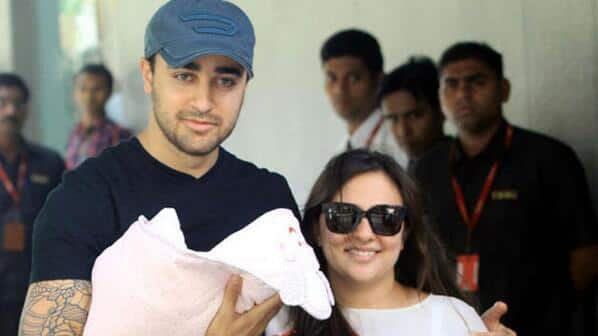 The newly turned parents of Bollywood can't stop gushing about their angel. Now we hear that Imran and Avantika have given their daughter a unique name!
"Its a Swahili name which means strong and resolute", said a proud daddy Imran Khan about his newborn baby girl's name. We think that the name is beautiful. But doesn't it sound a tad bit like the name Imran? Apparently, Imran Khan agrees and we heard that the actor was apprehensive about naming his little angel Imara because he didn't want to seem narcissistic. "I was quite hesitant because I felt it sounded like Imran, and it seemed egocentric. But then it came to a point where I didn't like any other name," said the new dad whose Father's Day was made special by the arrival of his cute baby girl.
The I Hate Luv Storys actor also feels that now he has a little girl his life is over! He said, "It feels different the second you see the baby. I just looked at Imara and I crumbled and fell. Had it been a boy, somewhere, I think I would have been okay. This father-daughter thing… I looked at her and I thought, 'My life is over now. All my life, I will be on my knees and running after her."
We think that this new father-daughter bond is adorable and wish Imran and Avantika all the luck in the world!