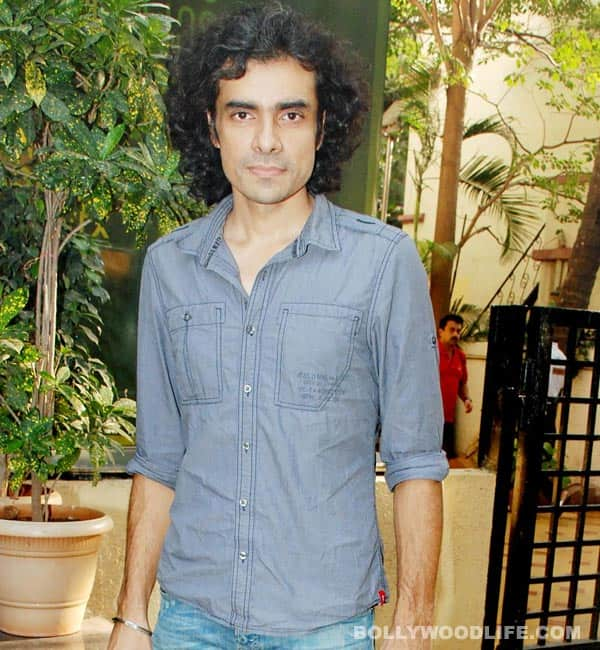 Imtiaz talks about his upcoming film Highway which is set to release this week
Imtiaz Ali's Highway is all set to hit the theatres. When we got chatty with the director, he had a lot of things to talk about. Before we could even shoot questions at the Rockstar director, he started off by asking us all if we've watched Highway Diaries and from that's where the conversation went ahead. Imtiaz, Alia Bhatt and Randeep Hooda sure promise something unusual and hopefully good, with their film, Highway. Imtiaz has lots of stories to tell and interesting ones… Read on to know what the Highway director has to say.
What are the elements that you've picked up while travelling ? You've said that you did…
Lots of things. That's something very unique about Highway. I picked up people music. There is a song by Manganiar music group. They are singing a song called chadhayo ji. That song came in and I revolved the scene and the situation around that.
Did you hear them just while travelling?
When I was travelling I heard about them. I knew about Saawan Khan, I Youtubed him. I wanted to use him in Highway somehow. He came in, sang a song. The nature of the song turned the scene. I felt that it is taking the movie forward. Similarly, Begum Jaan, or Begum as she is called , she is in Kashmir. Then she came in and sang a song. I devised a scene around that. We picked up a lot of actors. A lot of other music you will hear in the background has been picked up while travelling. Local artists. And that's gonna come in the film ultimately. The whole purpose was to take that into the film rather than go there and use it as a location.
Did you realise this on going there?
No, I had that in my mind right when I started. The insecurity of making this film was only that I usually work with a more finished script. This was not and it couldn't have been. If it's a journey film, it has to be slightly more open and flexible.
What are the difficulties you faced while shooting outdoors?
What happens when you go on a location where shooting does not happen, people don't know how to deal with it. If you go in a friendly way, everybody welcomes you, nobody says no. But you have to understand that you are not only shooting there. You have to go and request say that can I come here and disrupt your life. And they have to say ya, ya, please come and disrupt our lives. And then they will keep you there. Khana also, they sit and chat with you and go to sleep in their homes. And it will all be okay. It's like a lil party. The people who tell you the problems are the ones who give the solutions. They will say that you can't shoot here 'coz you will need permission from the municipal corporation. But they will also add that woh toh check karne parson ayega, shooting karlo aaj.
Why did you wait so long for Highway?
Sometimes you have a story but you as a director are not confident to deliver for people to understand. This story (of Highway) has simplified itself in my mind. Also because of exposure, the audience has become very very welcoming to different kinds of films.
We watched the Highway Diaries. What is the story that you are trying to show? Is it a romantic film?
Thoda toh suspense chodunga main, I can't tell u everything. It's a relationship story.
This film has stayed with you for fifteen years what is special about the film?
Special kya hain, k jab aap sheher ke baahaar chale jaate ho, sheher ke bare mein zyaada samajh aata hain.
Post the success of Rockstar you could have roped in any star for your film, then why did you go for an unlikely pairing like Alia Bhatt and Randeep Hooda?
Just like you people try and be honest with your profession, I try to be honest with my profession. My profession demands that if you have a story you should cast people depending on the role and not depending on their stature. If I do that the scope of me as a director will finish and I will become a shopkeeper. Randeep was the suitable actor and he was my first choice' I got him. Alia was the suitable actor.
What makes you say that they are suitable actors?
It's difficult to say as these things aren't logical and can't be quantified. It's just like a DNA matching.
How much of you is there in the film?
Everything that is there in Highway, I have spent. And usually spent in travel and imagined these scenarios. But I have not gone through a journey like that. I met a lot of people while travelling. In a journey you see a person and you don't know who this person is and then the imagination. For instance we had gone to Khandala, long back when I was in Xavier's. We were having a party. There were these pretty girls, from Colaba with us. They walked on the Highway and went to a dhaba as they wanted to make a call or something. They were wearing shorts or skirts and aisi nangi ppungi chali gayi. The truck drivers were sitting and eating over there and somebody said something. The girls turned around and abused the truck drivers. They (truck drivers) got up and ran after them, pakdo saala, daalon truck mein le chalo. The point is that you realise how quickly your life could change, the girls crashed through barb wires and somehow came in, scratched and bruised and crying desperately 'coz they knew chaar kadam aur, pakad lete truck mein daal dete toh kya hoti unki zindagi. Life can be that tender.
Did any incident happen while shooting for Highway?
There were many. There was a time when we actually got stuck in a landslide and that altered a scene in the film.
What about Sambhar?
Sambhar is Alia's favourite place. It's a very flat barren place. It's so fascinating 'coz it's n the middle of a desert. His had come up from the sea when the lands collided.
You're co-producing the film.. Did creativity take a backseat
I am producing the film. It might happen. I am not a producer and I don't intend to produce. But for this one I had to. I did not want this film to become a victim of the films that I have made before and the market expectations around it. I didn't want somebody losing their money which is why I felt that I should produce the film. Honestly, producing the film gave me the creative ability to say that don't worry, do it. I am the producer I know what's going on.
You are teaming up with AR Rahman again after Rockstar and you have other folk music too in Highway.. How are you getting it together?
With Rahman sir, just like I have a story and I am taking local things from there and adding it to the story. Similarly, obviously the composition or the soul of it comes from Rahman.
How did you think of the name Highway?
It's the most obvious name for the film.
In the initial clippings, we didn't see a lot of Randeep Hooda.
There's a mystery to his character even in the film, so we don't want to expose him as yet.
Would you say that this film will do to Randeep what Rockstar did for Ranbir?
How can I say that. I hope it doesn't do to Randeep what Rockstar did to Nargis.
What about Highway making Sajid Nadiadwala shift Heropanti's date?
I don't think he shifted the date because of Highway. He is obviously not going to put two film releases together.