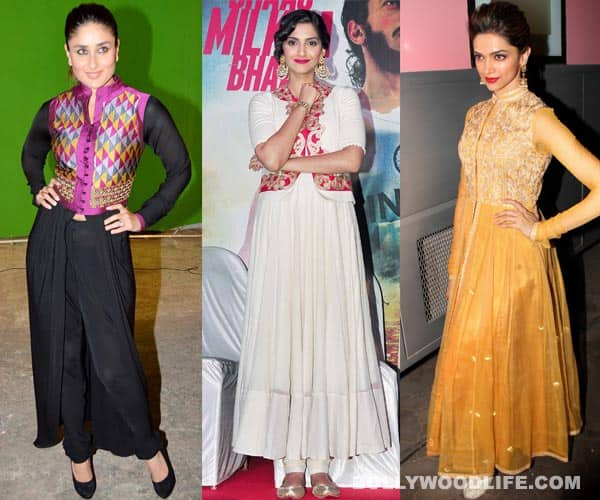 It's a good time to try something new. Find freedom from the conventional saffron, white and green and explore the world of colour, style and design!
Happy 67th Independence Day! It's time to dig into your wardrobe and come up with an outfit that goes beyond the conventional white, or to slip into the mismatch of saffron, white and green but in a hatke way. We tell you how you can be in the freedom mood and break free from the routine to make an impact – dare to be different!
Kareena Kapoor made the perfect style statement when she stepped out at a promotional event for Satyagraha in a Payal Pratap creation. We like the coloured jacket that added lots of colour to an otherwise blah-black drapey pants and top. Simple black pumps, light make-up and a high ponytail – the sleek look works perfectly for Bebo. But what made this ensemble especially stylish was the desi-chic flavour of a western-styled statement.
Now if you are the kind of person who cannot imagine Independence Day without white clothes, then you can choose to go the Sonam Kapoor way. She looked stunning in a white anarkali worn with a white jacket with a red and gold border. And what added class to her beauty was heavy earrings and red lipstick. We looked at her and went 'Oh my!' – didn't you?
Then there was Deepika Padukone, who looked breathtaking in a mango-yellow and gold ensemble. The netted sleeves were just perfect. However, the showstopper of the day was definitely the beautifully applied makeup that gave Ms Padukone's face a special glow.
So here's the best advice we can give you – ditch the cliche and opt for the hatke look to celebrate your freedom!