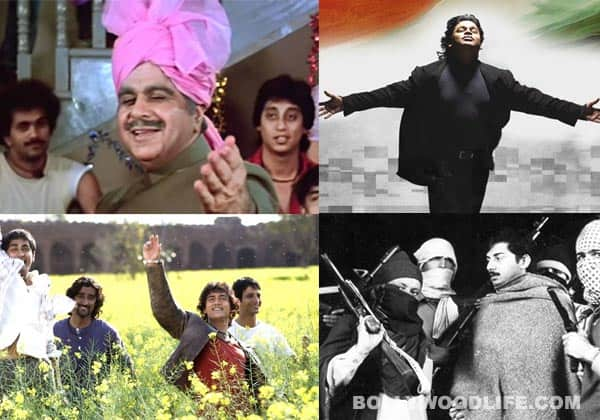 Over the years filmmakers have stirred up patriotic feelings with inspiring films. But it is the many soulful songs from these productions that have the real impact….
Music has the power to invoke the strongest and deepest feelings. And while most of us are lost in our-day-to-day life, when we hear a patriotic song, it pierces our hearts and brings out that latent pride that we all have in our country, India. From Yeh desh hai veer jawano ka to Rang de basanti, these songs inspire us to do something heroic for our motherland. And most importantly, they remind how much we love our country.
As India celebrates the 67th year of Independence, we present a list of songs that always leave us teary-eyed and ready to do battle in the name of India. How do you react when you hear….
Ye desh hai veer jawano ka: Beautifully composed by OP Nayyar, this song is from Naya Daur (1975). Sung by Mohammed Rafi and S Balbir, it became popular with it typically Punjabi tone and desi beats lending it a rural touch.
Aye mere watan ke logon: This patriotic song was written by Kavi Pradeep and composed by C. Ramchandra to honour the Indian soldiers who died during the Sino-Indian War. Just two months after the war ended, the song was famously performed live on January 27, 1963 by Lata Mangeshkar at the National Stadium in the presence of Prime Minister Jawaharlal Nehru at the Ramlila Maidan in New Delhi on account of Republic Day.
Dil diya hai jaan bhi denge: Karma released in 1986 and it starred Anil Kapoor, Jackie Shroff and Naseeruddin Shah. M.Aziz & Kavita Krishnamurthy sang this melodious song that became a national rage. Music composer Laxmikant Pyarelal and lyricist Anand Bakshi depicted the feeling of patriotism beautifully.
Vande mataram: AR Rahman reinvented the national song and truly succeeded in capturing the essence of India in it. Every time you hear this one it seems as is the words Vande matram are rising from Rahman's soul.
Bharat humko jaan se pyaara hai: Composed by Oscar winning composer AR Rahman, this song from the 1992 hit film Roja was sung by Hariharan. The patriotic number advocates the feeling of brotherhood between people. The sudden change of tempo gives it an edge.
Sandese aate hain: This heart-wrenching song is from 1997 war film Border. Written by Javed Akhtar, and with Anu Malik composing the music, the song became the nation's anthem after the film released.
Mera rang de basanti chola: Composed by AR Rahman and based on a traditional folk number, this song is from Rajkumar Santoshi's The Legend of Bhagat Singh. The song carries an intense Punjabi flavour in its composition, but with Rahman´s modern touches it takes on a new life. Lyrically, the track is patriotic and traditional.
Rang de basanti: A peppy and relevant number for the youth of today, this song from the Aamir Khan starrer Rang De Basanti was composed by AR Rahman and written by Prasoon Joshi. This popular track was also used during a flash mob dance at Chhatrapati Shivaji Terminus in Mumbai on November 27, 2011, in honour of those who died in the 26/11 attacks on the city.
Yeh jo desh hai tera, swades hai tera: Javed Akhtar's meaningful lyrics and AR Rahman's amazing singing makes this soulful track from Swades a classic. The song oozes patriotism, despite its petal soft vocals
Zindagi maut na ban jaaye: From Aamir Khan starrer Sarfarosh, this is a new age patriotic track. Sung by Sonu Niigaam and Roop Kumar Rathod, it succeeded in instilling a feeling of nationalism in its listeners.