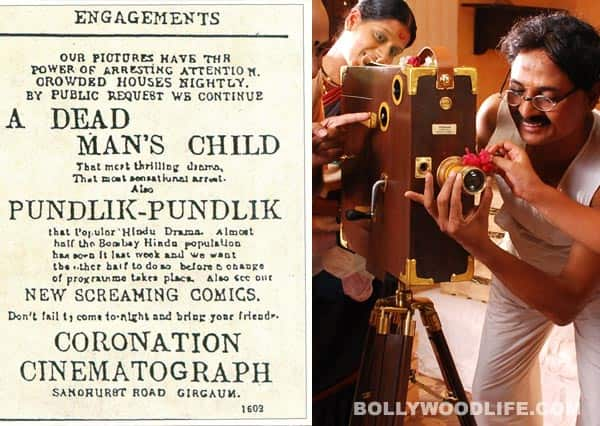 Was Dadasaheb Phalke the first one to make a film in India, or was it Dadasaheb Torne?
It is a well known fact that Indian cinema is a late developer. We adopt cinematic trends or rather ape them from the West, years after the fact. With the honourable exception of Satyajit Ray, it took us years to realise that we need to delve into our own rich culture and heritage to make films that are universal. Today, May 3rd is historic because it marks 100 years to the day that Dadasaheb Phalke's Raja Harishchandra released and therefore, today is Indian cinema's centenary. Right? WRONG?
Gather around, my children, let me tell you a little story, or stories, about our storied cinema history. In July 1896, pardon my French, the Lumière Brothers' L'arrivée d'un train en gare de La Ciotat (Train pulling into a station) unspooled before a terrified and fascinated audience at the fabulous cast-iron Watson Hotel in Bombay (as the city was known then). That was India's first introduction to the wonderful world of cinema.
From 1898, Hiralal Sen made a series of short films beginning with The Flower of Persia, a film recording of the eponymous show at Calcutta's Star Theatre. Since the short was projected to a paying public at the Star, it could be argued that the journey of Indian cinema began in 1898 and we should really have celebrated the centenary in 1998. Between 1901 and 1904, Sen made Bhramar, Hariraj and Buddhadev, with Alibaba and the Forty Thieves being his longest film. All of these were essentially filmed versions of stage plays.
Let us, for the sake of argument only, discount Sen's pioneering efforts on the grounds of their short lengths and look at Ram Chandra Gopal Torne's Shree Pundalik. Torne (also known as Dadasaheb) filmed the stage play Pundalik in several different parts and then edited them together to make a film. The finished product ran 22 minutes and was released in Bombay's Coronation Cinematograph at Sandhurst Road, Girgaum, Bombay (see picture), on May 18, 1912.
Phalke's Harishchandra that released nearly a year later had a running time of 40 minutes. It is considered the first Indian feature because, unlike Torne's film, it was processed in India, it wasn't a film of a stage play and it was of feature length. This is absolute nonsense on all counts. A film of a play is still a film, because it was shot expressly for projection purposes and moreover, edited together, and released in a cinema where people paid to watch it. It could have been processed in London or Timbuktu. So what? It's still an Indian film. Does the fact that famed British stunt co-ordinator Gerry Crampton designed stunts for Sholay make it any less of an Indian film, or for that matter the small matter of Sippy lifting the plot from Seven Samurai or several scenes from Sergio Leone films? As for the duration, the British Film Institute and the American Film Institute stipulate that a feature film should be a minimum of 40 minutes and so Harishchandra qualifies on that count. But why should a feature film be used to mark the beginning of a centenary? Shouldn't it be the very dawn of cinema?
So, take a bow Sen and Torne. You are the true fathers of Indian cinema. Phalke-ji, we respect you to bits, but you've had 100 years in the limelight. Let's give others their rightful due. Meanwhile, as we watch again that ghastly and tacky song that features most of the current Bollywood stars from Bombay Talkies, let us shed a quiet tear for the pioneers of Indian cinema.