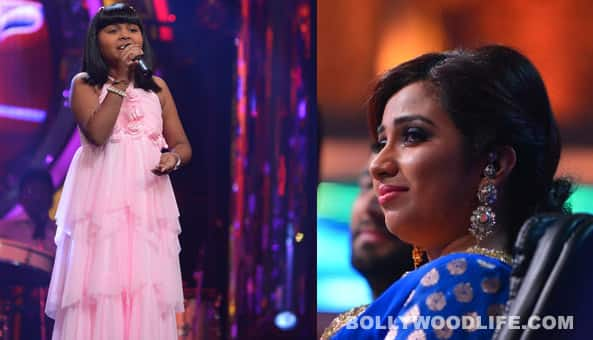 The singer was touched after watching Anjana Padmanabhan's performance
The top four contestants of Indian Idol Junior showcased their singing prowess during the gala episode. Legendary composer Pyarelal is the special judge of this episode which will be aired tonight at 8:30pm. All four contestants have left the judges awestruck with their brilliant performances. Out of the four, Anjana Padmanabhan not only received a standing ovation but also left Shreya Ghoshal teary eyed.
Anjana sang Ek pyaar ka nagma hain which received a standing ovation from the judges as well as the audience present. Pyarelalji was in complete awe of her singing and stood and clapped for her. Shreya was so touched with Anjana's performance that she couldn't control her tears. She congratulated Anjana for her outstanding singing and told her that if she continues singing the way she is then no one could stop her from clinching the title.
Way to go little girl! We too hope Anjana wins the title. What do you think BollywoodLifers?