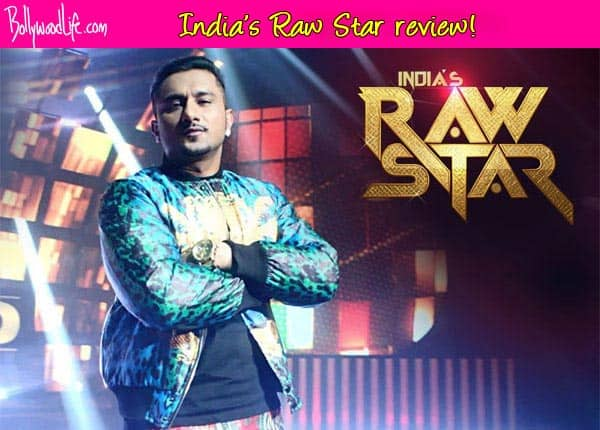 Here is BollywoodLife's review of the Lungi Dance singer's maiden outing on the small screen
India's rap badshah Yo Yo Honey Singh has made his TV debut with singing reality show India's Raw Star, the first episode of which was aired today on Star Plus. So did it impress or depress? We tell you…
What's it about – As the name suggests, the show is about the raw talent hidden in our nation. India's Raw Star has kicked off with 10 contestants who will sing songs that they have written and composed or Bollywood songs modified in their own singing styles. What makes it different from other singing reality shows is that in the latter, people sing Bollywood songs in the hope of becoming playback singers. The show is judged by Honey Singh and hosted by former Bigg Boss winner Gauahar Khan.
What's hot – There was a time when singing and dancing reality shows were considered a sure success on the small screen. While dance reality shows still manages to hold audience's attention, all thanks to the visual representation and innovation, singing reality shows on the other hand seem to have lost some of their touch. And lack of experimentation is one of the main reasons for this. However, IRS has certainly managed to break some of the cliches attached to the singing reality genre. One thing which we personally liked about the show is that unlike other reality shows, where the audition process involves standing in long queues, India's Raw Star conducted the first ever digital only auditions. Honey Singh and his team scanned more than 50,000 entries, 20 % of which were from outside the country. In another first, there isn't any jury to judge the contestants. Instead, the audience and Singh will decide who wins. The show, as we have already told you doesn't involve two funny hosts, which is typically the trend in other reality shows, nowadays. Instead, it's hosted by Gauahar, who does a mighty impressive job. Another interesting point is that in India's Raw Star, which is a 14-week-long series, eliminations won't start from first or second week. In fact, the show will not see any elimination in the first five weeks. Five contestants will be eliminated directly after five episodes and then three more contestants will be chosen from the auditions and introduced in the show. The last round will have three contestants from which the winner will be chosen. Interesting, isn't it? Also the makers have gone an extra mile with this show by roping in choreographer Michael Schwandtl (who has worked with artistes such as Katy Perry and Lady Gaga on their performances) to work with the contestants and visually enhance their singing performance. The show also has Ashish Manchanda (the only Indian sound engineer to have worked with Michael Jackson) on board who will be heading the sound team. So there are really talented people involved with this show.
And last but certainly not the least, it's great to see Honey Singh on the small screen. His antics make India's Raw Star a good watch.
What's not – While other weekend reality shows choose one hour telecast time on Saturday-Sunday, India's Raw Star will air for two hours on Sundays (from 7 pm to 9 pm). We only wish that the makers should have stuck to the trend and aired the show one hour on both Saturday and Sunday. That's because too much of something on one day might just backfire because there are other shows which people wouldn't want to miss while IRS is on air.
Verdict – All said and done, the first episode of India's Raw Star definitely impressed us. All the music lovers who are looking for something different will surely love it. We hope it doesn't lose the plot and keeps going like this in coming episodes.
Rating:
out of 5
Reviewed by Vinod Talreja
* Poor
** Average
*** Good
**** Very good
***** Excellent