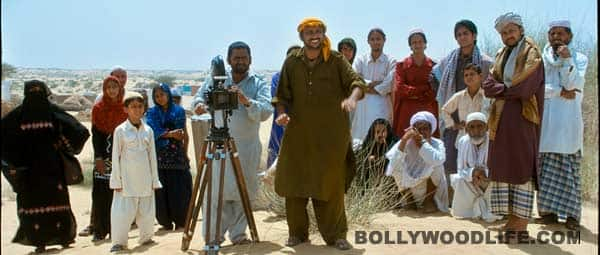 Earlier Aamir Khan's P.K. was to clash with the Akshay Kumar starrer
Producer Vipul Shah, director AR Murugadossand star Akshay Kumar thought they would enjoy a nice solo release window on June 6, the date formerly occupied by Aamir Khan's PK, for their magnum opus Holiday: A Soldier Is Never Off Duty. But that solo window now has another player. UTV Spotboy and Shringar Films have announced that their co-production Filmistaan will release on that date.
Directed by debutant Nitin Kakkar, Filmistaan has been a firm festival favourite over the last year around the world. It has also won the National Award for Best Hindi Film. The story is novel and will play out as a strong counter-programming choice to Akshay Kumar's action.
The plot goes thus: Bollywood buff and wannabe actor Sunny goes with an American film crew to the remote areas of Rajasthan to work on a documentary film. One night late after shoot, a terrorist group kidnaps him and takes him to Pakistan. When the leader of the terrorist group meets Sunny, he realizes that the inept terrorists have mistakenly kidnapped him and taken him prisoner instead of an American crew member. With little choice, the terrorists decide to keep him hostage until they locate their original target. The house Sunny is confined to belongs to Aftaab, a Pakistani who pirates Hindi films but like Sunny loves Indian films, and the two of them bond over the pirated Bollywood films that play in the village.
UTV has a long record of cannily ambushing larger releases with smaller and novel fare and Filmistaan promises to be no different. "At UTV Spotboy, we have always believed in the power of a good story and that is the reason we have decided to back a movie like Filmistaan. With a first time director and a fresh ensemble cast, this film has already bagged a National Award for Best Film and has been the toast of film festivals around the world. We believe it's a film that just about everyone will relate to because it is about the magic of Bollywood. We will back it with aggressive marketing and distribution to take it to audiences everywhere and are very happy to be associating with Shringar Films on this venture," said Amar Butala, Creative Director – Studios, Disney India.
Shyam Shroff, Director – Shringar Films said, "It gives me immense pleasure to join hands with UTV Spotboy for the release of FILMISTAAN. It's a story about people's passion for Bollywood and how it really influences their lives. Having grown on up on Bollywood myself I feel it's a story which deserves to be told and I am excited about embarking on this journey with Siddharth, Amrita, Amar and their amazing team as I truly believe that UTV Spotboy will give the film its deserved canvas."
"Every movie is a reflection of its director's thoughts and this movie is a reflection of the way I think. I am extremely excited about the mainstream release of my film and look forward to the audience's reaction," added Nitin Kakkar.