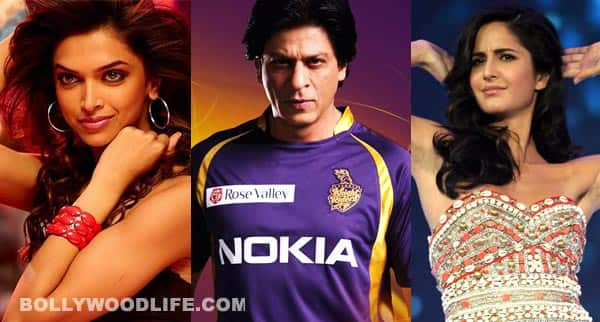 Shahrukh Khan, whose Red Chillies Entertainment has organised the IPL 6 opening event tonight, says the show will be fantastic
Promising a spectacular Indian Premier League (IPL) 2013 opening ceremony in Kolkata on April 2, Bollywood megastar and Kolkata Knight Riders team owner Shahrukh Khan said it would be an unprecedented experience for the country. "The Pepsi IPL 2013 opening night will be a spectacular ceremony, the likes of which India has never seen before," Shahrukh said in an interview to the tournament's official website Iplt20.com.
The Bollywood Baadshah said he would perform some of his songs at the nearly two-hour show to be staged at the Salt Lake stadium. "I will be performing to some of my songs. Katrina Kaif and Deepika Padukone, two of my co-stars, will also be there. Pitbull, the international rapper, will thrill the audiences".
Shahrukh said IPL and Hindi mainstream cinema have various common qualities – "Excitement, suspense, tension, joy, heartbreak, and action".
Come Tuesday, the Salt Lake Stadium in Kolkata will resonate with Rabindra Sangeet and Pitbull's rap as a medley of dancers will enthral over a hundred thousand spectators at the inaugural ceremony of the sixth edition of the Indian Premier League (IPL).
Apart from performances by SRK, Katrina and Deepika, the spectacle will flag-off with a dance sequence by 300-odd high school and college students of the eastern metropolis. The dance sequence will begin with Tagore's Aguner poroshmani playing in the background as the teeny-boppers take to the arena in 'Om' formation, holding aloft torches.
Payel Bhor and her co-dancer Krittika Ghosh from Konnagar in Hooghly district have been rehearsing for eight hours a day with other members of their troupe since March 22 to prepare for the ceremony, put together by Mumbai's event management company Cineyug in collaboration with Red Chillies Entertainment (RCE). The SRK-owned RCE holds a 50 percent stake in Kolkata Knight Riders (KKR).
Choreographed by Santosh Shetty, the torch dance sequence will be followed by a carnival where the children will showcase western steps in a variety of formations with props like tassels, flags, pom-poms and umbrellas. The jamboree will also see a cavalcade of flying drummers from Europe and stilt workers.
For the cricketing part, captains of the nine participating teams will sign the ICC spirit of cricket pledge "Play hard, play fair" following which defending champions KKR captain Gautam Gambhir will put the trophy back into play.
SRK, Deepika and Katrina will take to the stage towards the end of the show while Pitbull will rap twice during the ceremony tonight at 7pm.
PICS: IPL 2013 Opening Ceremony | VIDEOS & MORE PICS: IPL 2013 opening ceremony: Shahrukh Khan and Pitbull rock the stage!