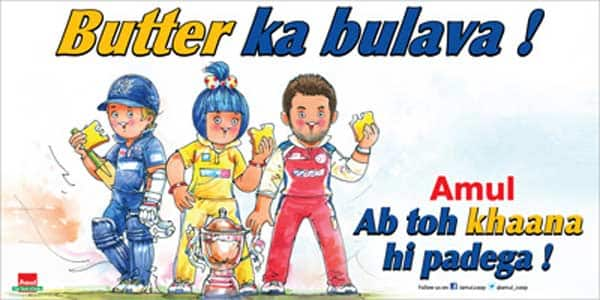 In what can be called a delicious invitation ever, Amul comes up with a teaser that cashes in on the madness this country shows when it comes to cricket, especially for the Indian Premiere League aka IPL
Bollywood might be the biggest factory that churns out the baap of all content to entertain us Indians, but when it comes to pure madness for a game that is followed more like a religion in our country, Cricket wins the game and our collective hearts hands down!
While B-town celebs add the much needed glamour in our mundane living, our cricketing heroes are venerated like demi-gods. How could then the most entertaining format of the contest between the leather and the wood, in its shortest version, be not applauded and followed with vengeance?
And the popular butter brand Amul has decided to take note of the biggest bulava of the year in its quirky yet delicious way. The new hoarding dotting our cities roars-butter ka bulava, ab toh khana hee padega.
Take a look at this teaser and tell us if you find the offer mouth watering?