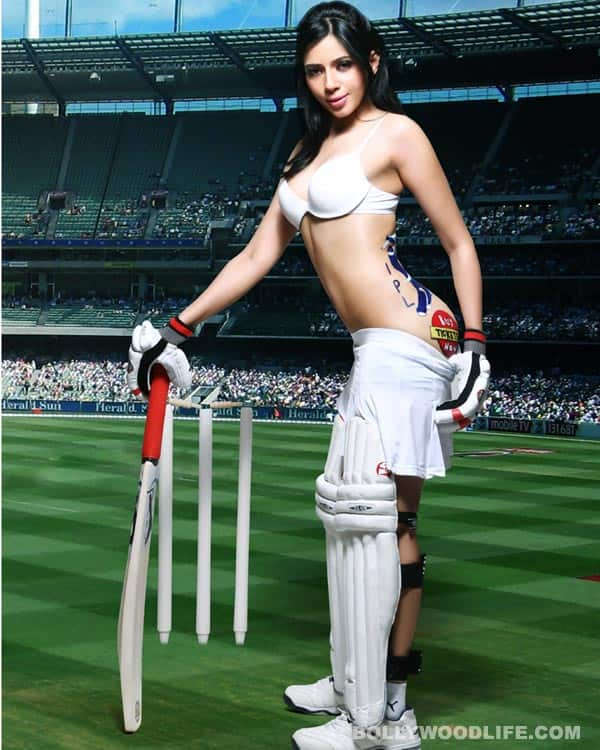 After Tusshar Kapoor tortured our observant eyes by doing a John Abraham and showing off his not-so-sexy derriere (plus his man boobs), here comes desperate lass IPL party gal Rozlyn Khan trying to hog the limelight with her unsurprising act
The IPL is an exciting blend of cricket and Bollywood. People from both fraternities are motivated by one another. Look at IPL party girl Rozlyn Khan, so obviously inspired by John Abraham's bum-showing act in Dostana. The gal did not think twice before replicating Johnny boy's naughty act to get attention.
Recently, Tusshar Kapoor tried to ape the dimpled hunk and pull the trunks off his not-so-appreciable behind. Replicating the butt show, Rozlyn has become the first gal of B-town to get…err…cheeky. "What's hot needs to be served hot. What would people do looking at the butt show by John Abraham and Tusshar Kapoor ? Had I been given an opportunity to show my butt, it would definitely have been better than John's or Tusshar's," said the desperate damsel.
Sticking to her words, Rozlyn did a sizzling photo-shoot. We see her wearing a white bra and a matching itsy-bitsy skirt in the picture. She comes to the crease, totally padded up, with a bat in her hand. She then slides up her skirt, reveals her rear and flaunts the IPL logo as well as a sticker on her bum cheek that reads 'Buy ticket now'!
Though we found this picture extremely cheesy, Rozlyn believes that the dare-bare stunt will be her ticket to fame, if not Bollywood. Earlier this year the model- turned- IPL party girl went topless to spread social awareness about breast cancer. After that she was itching to shed her clothes for our national obsession too. And now she has timed her skin show just right. "There are few things which men cannot beat women at," said Rozlyn.
We don't know if this desperate-for-attention gal can succeed in grabbing eyeballs with her butt show, but she is all set to give a certain Poonam Pandey a run for her money. While Poonam shied away from her promise of stripping, here's a new 'item' who actually went ahead and did 'it'!