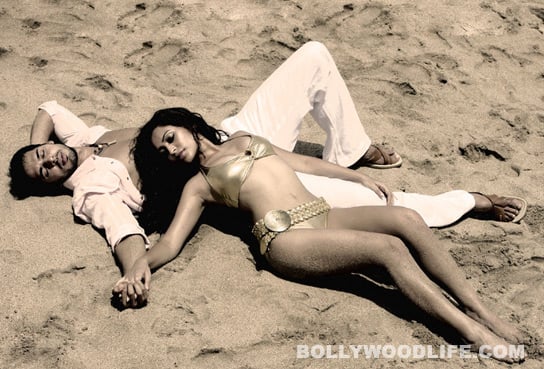 The South African entrepreneur who got into the infamous brawl with the Agent Vinod actor says he doesn't watch Hindi films and had no clue about Saif Ali Khan's celebrity status. Amusing, coming from the man whose wife herself has been acting in Bollywood films
Iqbal Meer Sharma, the south African businessman who has been in the news for being allegedly assaulted by Saif Ali Khan at the Taj hotel in Mumbai, claims that he was not aware of Saif Ali Khan's celebrity status and would not recognise the star if he had walked past him on the street. Now we had almost bought this claim of his, but what got us suspicious was the glitzy portfolio of Iqbal's wife Tarina Patel who was there at the restaurant when the ugly spat broke out. Tarina has acted in several Bollywood films including Bhool Bhulaiyaa, Dhol and Dus Kahaniyaan. So, isn't it hard to digest that her NRI husband did not know who Saif Ali Khan was?
Iqbal claims that he has not seen a single Bollywood film in the last 20 years and apparently watched only those his wife has acted in. It is believable that Sharma has very little connection with showbiz, but when he was having dinner with his starlet wife at Wasabi, didn't Tarina update her hubby on the celebs sitting on the table right next to them? Referring to Kareena Kapoor, Malaika Arora Khan and Amrita Arora, Iqbal says he doesn't even know who the girls were. The man is now sorry that his wife's career might suffer for the fight he picked up with the Nawab of Pataudi. Really, was there even a career? Wethinks it might actually get Tarina noticed a bit! Take a look at her pics and tell us what you think.
PHOTO: Tarina Patel in Dus Kahaniyaaan